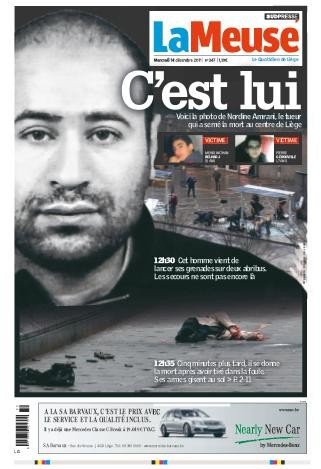 A picture of the man who committed the shocking attack that claimed at least four lives in Liege, Belgium, Christmas Market is starting to emerge.
Nordin Amrani, 33, was a Liege citizen well known to police after a raid on his home in the city uncovered thousands of gun parts and drug plants.
He was arrested on Oct. 16, 2007, following a raid on an outbuilding at his home on Rue de Campine that uncovered a cache of 10 firearms, 9,500 gun parts and 2,800 cannabis plants. He also had past convictions for trafficking stolen goods and pimping.
Despite being sentenced to 58 months in prison, he was released on bail on Oct. 8 last year. He was due to be interviewed by police on the day of the attack about a sexual abuse case.
He was a weapons expert, able to take apart and reassemble firearms, but officials have stressed that he had shown no signs of mental instability before his rampage.
It is not known what led to his decision to come to the market in the Place Saint Lambert with a bag filled with grenades, a pistol and a FAL assault rifle.
He drove his white van for a two-minute journey to the market, where he parked outside the Le Poin Chaud Bakery. He then climbed onto the bakery's flat roof and opened fire, throwing three grenades and firing shots at the terrified crowd.
Four people were killed; two teenagers aged 17 and 15, a 65-year-old woman and a toddler. Around 122 people were injured, five of whom are in critical condition.
He is believed to have committed suicide with a gunshot to the head. His body was searched.
Police raided his home and found another weapon. They then returned to the shed he had used as a cannabis factory and found the body of a 45-year-old woman, thought to be a neighbour's cleaner, as well as more weapons.
"We have not found any messages left by the assailant," said Belgian public prosecutor Daniele Reynders.
The newspaper LaMeuse published a picture believed to identify Amrani with the headline "It's him".