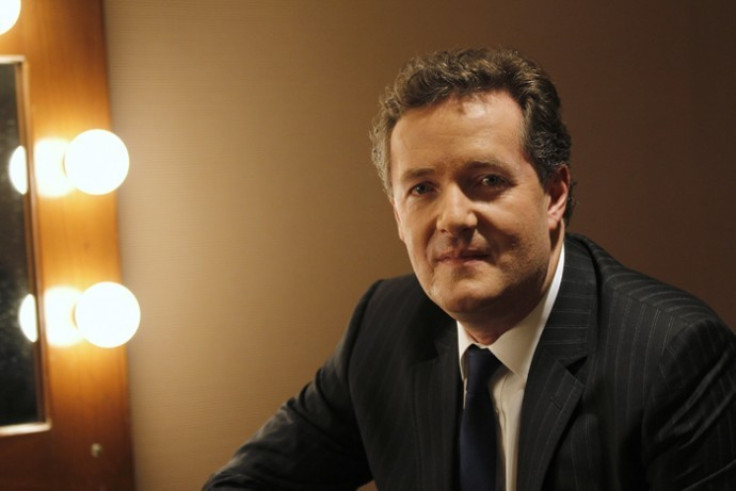 After Kim Kardashian posted naked selfies on Instagram on 7 and 8 March TV personality Piers Morgan was quick to criticise her actions, which later turned into a bitter battle of words. And it looks like the two are at logger-heads again, with Morgan saying that Kim's nude selfies were a desperate attempt to "break the internet".
"...it's hard to escape the creeping suspicion that this new frenzied and frankly rather desperate attempt to 'break the internet' is happening because other younger members of her family have been grabbing all the scantily-clad attention recently, notably half-sister 20-year-old Kendall 'Instagram Queen' Jenner," Morgan wrote in the Daily mail.
The feud between Kim and Morgan kicked off after The Good Morning Britain host pointed out that Kanye West's financial troubles were the reason behind Kim going nude again. Piers wrote on Twitter: "I know the old man's [Kanye West] $50 million in debt, Kim - but this is absurd. Want me to buy you some clothes."
He told ET Online: "I suggested to Kim, 'Look, you clearly can't afford any clothes. I will happily step in and buy you some clothes,' which I thought was a joke. I woke up this morning to find all hell breaking loose," he said.
Meanwhile, Kim had replied to Morgan's tweet by saying: "Hey @piersmorgan never offer to buy a married woman clothes. Thats on some ashley madison type shit #forresearch."
Morgan explained to ET Online: "Kim had responded by basically inferring I should stay off Ashley Madison, the cheating website, because this is the kind of activity they do on there in offering to buy married women clothes. I could see she was in a very bad mood."
This is not the first time Morgan has been involved in a bitter war of words with someone in the public. In March 2014, the former editor of the Daily Mirror had posted photos of former Top Gear host Jeremy Clarkson embracing TV producer Elaine Bedell and had challenged him to settle a feud dating back to 2010.
Morgan had tweeted: "He talks a good game, let's see if @JeremyClarkson has the b***s to walk it too. £100k charity fight – yes or no, Fatboy?" Clarkson refused the fight and said: "I'm not going to box Piers Morgan. I'm too busy. Leave me alone. I've got a job to do." To which, Morgan responded: "Cluck, cluck cluck."