A hot air balloon pilot who crashed killing himself and 15 others in Texas had ingested a cocktail of prohibited drugs before take-off, a National Transportation Safety Board (NTSB) hearing has heard. According to a toxicology report Alfred 'Skip' Nichols had taken seven drugs, including the opiate painkiller oxycodone and the sedative diazepam, also known as Valium.
The drugs are prohibited by the Federal Aviation Administration (FAA) because they can impair a pilot's judgement and motor skills. Nichols was taking 13 drugs, many of them banned, for a multitude of ailments including type II diabetes, depression and chronic pain from fibromyalgia.
It has also been reported that Nichols was able to continue flying passengers despite five convictions for driving while intoxicated and three convictions for drug offences, according to the NTSB.
The 49-year-old crashed the hot air balloon he was piloting after striking high-voltage power lines near Lockhart, Texas, about 60 miles northeast of San Antonio, on 30 July this year. The hot air balloon crashed to the ground bursting into flames killing all onboard.
"The ultimate goal of this investigation is to learn from this tragedy so that we can keep it from happening again," NTSB member Robert Sumwalt said at Friday's hearing according to Bloomberg News.
Hot air balloon pilots, unlike those that fly commercial planes, are exempt from periodic medical assessments. It will also be investigated how Nichols was still allowed to fly after serving two prison terms for drug and alcohol violations.
The FAA failed to take punitive action against Nichols after learning in 2013 of his driving convictions as rules prevent the agency from taking certain actions on infractions more than six months old. So when his latest violation, in 2010, was discovered in 2013 the body said it would not pursue any actions related to his convictions.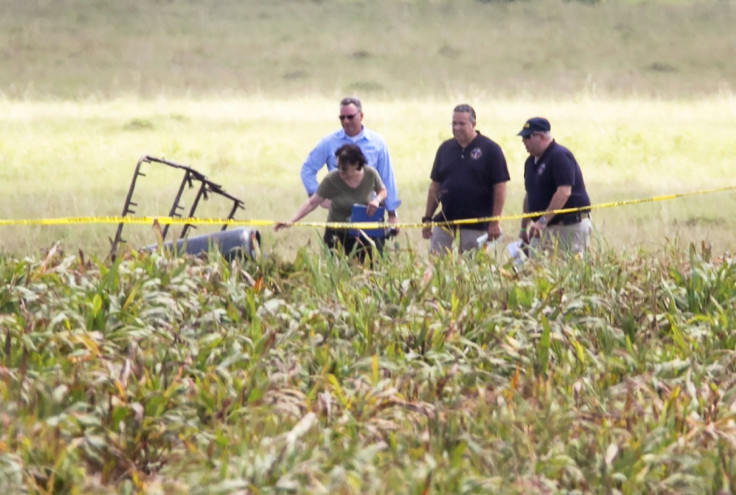 It was stated at the hearing, according to Bloomberg, that the agency will investigate after safety issues was raised in relation to the balloon taking off in questionable weather. The balloon, which was supposed fly only in clear conditions, took off in cloudy skies, photos taken at the time revealed.
The hearing cited a recorded phone call between an FAA weather station and Nichols, where he was advised: "Those clouds may be a problem for you." Nichols replied: "Well, we just fly in between them. We find a hole and we go."
The death toll was the highest in a single US aviation accident since a 2009 commuter plane crash in upstate New York near Buffalo where 50 people died.