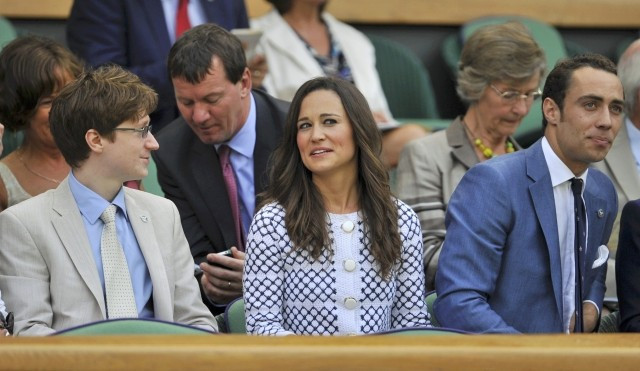 Pippa Middleton is becoming as famous as her sister, Kate Middleton, the Duchess of Cambridge. As Kate is busy finding the right man for Pippa, the younger Middleton was spotted with her ex-boyfriend Alex Loudon. Pippa was leaving Loudon's apartment at 7 am and the duo looked happy, according to People.
"Of course, it is early days, but Pippa's mum and dad Carole and Mike are happy as long as she is. They always liked Alex and like any parents all they want is for their daughter to be happy," a source told The Daily Mail.
People close to Pippa had described Loudon to be the right one for her. But the couple split due to Pippa's instant fame when her sister got married to Prince William. Pippa was dubbed a royal hottie and Loudon did not quite approve of it.
Loudon's parents had not quite approved Pippa as they thought she was not "wife material." So will it stop Pippa and Loudon from getting back together?
After the break-up with Loudon, Pippa was devastated and indulged in wild partying behaviour. When Kate Middleton felt her sister was crossing the limits, the Duchess asked Pippa to put an end to it and started searching for a possible man for her. For Prince William's birthday bash, Kate had invited prospective single men hoping to find the right guy for Pippa.
Of late, Pippa has been keeping a low profile. Surprisingly, she went to Wimbledon with her brother James Middleton. Everyone was eagerly expecting to see who Pippa would bring as date to the occasion. But she surprised everyone coming with her family. Pippa wore a navy dress, white-and-navy sweater, and open-toed wedges for the event. Since there were also rumours that Black Eyed Peas singer Will.i.am and Pippa had become good pals during the diamond jubilee concert, there were speculations that the singer might accompany her. A source had told the Daily Mail that the duo had even exchanged numbers.