With her nuptials just weeks away on 20 May, it's unsurprising that fitness fanatic Pippa Middleton is amping up her workout routine so that nobody steals her shine on the big day.
The 33-year-old author – who is marrying hedge fund manager James Matthews – has been a known sporting enthusiast for some time. But the Duke of Cambridge's sister wants to ensure she looks her very best for the wedding, so is not slowing down her exercise routine beforehand.
According to E! News, Middleton was spotted leaving KX Gym in Chelsea on Wednesday (26 April) after doing an hour-and-fifteen-minute long Pilates class. Ouch!
Some of the benefits of Pilates – which many Victoria's Secret models are fans of – includes long, lean muscles and flexibility and an evenly conditioned body which improves overall sports performance. Famous faces who regularly practice it include Miranda Kerr, Lily Aldridge, Alessandria Ambrosio and Kate Hudson.
Middleton has made her passion for sport and exercise no secret over the years, sharing the same interest in keeping fit as her sister Kate.
The bride-to-be is a keen skier and her bachelorette party took place in March this year, with Kate as one the few guests, at the French resort Meribel. She has also been spotted paddle boarding in the Caribbean with brother James Middleton and participated in the Great Wall Marathon in northern China last year, which includes 5,164 steps and a brutal 820-foot climb at mile 22.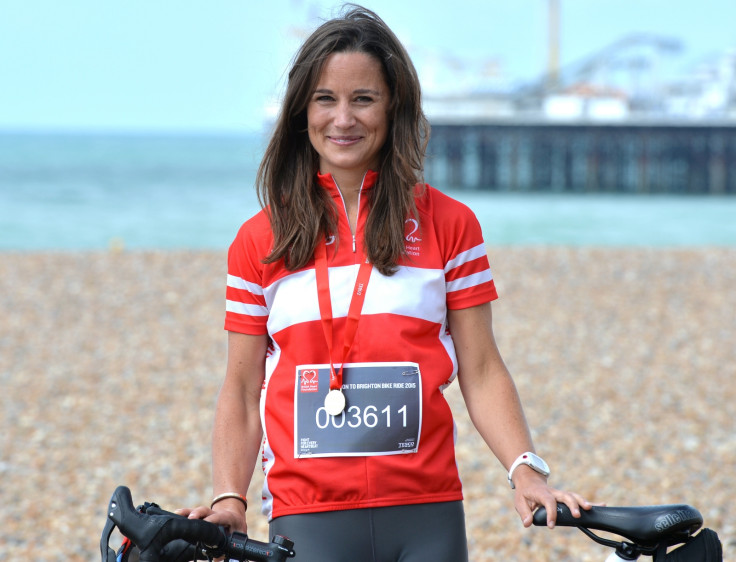 Despite the 85-degree heat, Middleton completed the marathon in 4:54:51. She was the 13<sup>th overall female and finished 70<sup>th out of 876 starters.
When it comes to her diet, Middleton likes to focus on whole plant-based foods to fuel her workouts. She previously told Hello! magazine: "I try to eat wholegrain, energy-fuelled carbohydrates and three meals a day. I also increase my portion sizes based on my training level, with lots of brown rice, lentils, quinoa and sweet potato, and for breakfast, porridge and rye toast."
And we may have an insight into Middleton's pre-wedding diet, as she also told the publication how she gets healthy before a fitness challenge or ''event''. She said: "A week or so before an event I'm quite conscious of eating really nutritious foods to store energy and I cut out alcohol, refined sugar and processed foods." We're sure she would take a similar approach ahead of her big day.
In just a few weeks, Middleton will walk down the aisle at St Mark's Church in Berkshire in front of approximately 150 guests which include the Duke and Duchess of Cambridge. The royals' children will also take part in the wedding, with Prince George acting as page boy and Princess Charlotte bridesmaid.