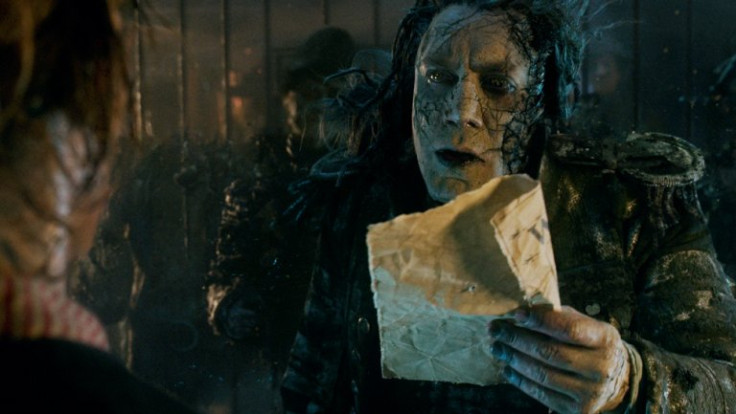 Captain Jack Sparrow may not be one of the most terrifying pirates on international waters, but he is definitely the most wanted. Disney released the first trailer for the highly anticipated Pirates Of The Caribbean: Dead Men Tell No Tales and while our favourite rum-soaked hero played by Johnny Depp doesn't make an appearance, the teaser introduces a terrifying new villain.
Enter Javier Bardem as the ghostly Captain Salazar who has recently escaped from Devil's Triangle with an agenda to kill all pirates. With hair that ripples as if it were underwater, a pale almost-corpse-like face and teeth that bleed profusely, Sparrow's nemesis from the past has a crew of equally dead-looking fighters, all with the Black Pearl's captain as their latest target.
"Find Sparrow for me, and relay a message from Capitan Salazar, and tell him...death will come straight for him. Will you say that to him? Please?" Salazar asks a young prisoner on board a ship he has just attacked.
The trailer leaves a lot to the imagination. After all, Sparrow has had a number of clashes with the "un-dead" and the resurrected, not to mention run-ins with goddesses, so what makes this one any different.
The synopsis of the movie via Collider tells of a hunt for the 'Trident of Poseidon' that will help Captain Jack defeat these ghost enemies and take control of the seas. We will have to wait for Disney to release its next trailer to hopefully get a better idea of what kind of adventures and goof-ups Dead Men Tell No Tales entails.
Alongside Depp and Bardem, the fifth instalment of Pirates Of The Caribbean also stars Orlando Bloom, Geoffrey Rush, Kaya Scodelario and Brenton Thwaites. The film is expected to release in theatres on 26 May, 2017.
Watch the teaser trailer below: