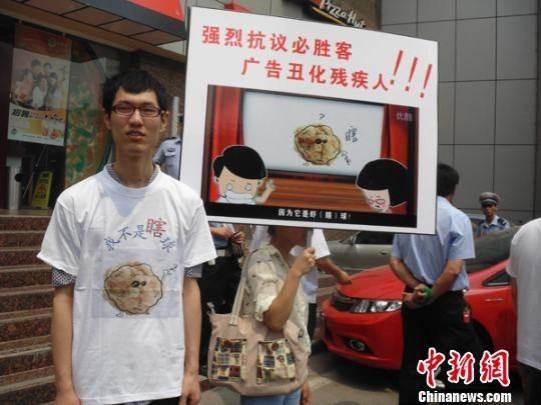 A pun in an advert has sparked anger and forced food giant Pizza Hut into a solemn apology for mocking blind people in China.
The campaign used a play on words to sell a new prawn ball to diners in the city of Zhengzhou in Henan province.
But as soon as the advert was released it sparked a wave of protests. Demonstrations sprung up with placard-waving protesters furious that the advert depicted blind people as comical buffons. The outrage was sparked by the similarity of the Mandarin characters for "prawn" and "blind".
In the advert, a disabled prawn using a walking stick takes a tumble before forming itself into the Chinese pictogram for "blindness".
Pizza Hut backed down in the face of the protests and issued an apology in which it begged customers to forgive it.
Fu-Long, 25, who is nearly blind, said that the chain had violated his rights.
He said: "I must stand up for three reasons. First, I hope Pizza Hut stops this advert. Second, they should formally make a public apology and lastly they should donate money to help eliminate disability discrimination."
Pizza Hut's insensitive campaign offended visually impaired and fully sighted people alike.
Disabled activist Huang Rui said: "The interests of this group has been compromised, and if nobody speaks out when the visually impaired are insulted, then tomorrow it could be an insult of the deaf, the day after that it is likely to be disabled persons.
"This advert harms people with disabilities."
Pizza Hut admitted the advert was "ill-considered". A spokesman said: "Pizza Hut solemnly apologises again. I urge you to forgive."
The chief commissioner of Pizza Hut's Chinese, Zhang Ying, said: "This advertising was a creative mistake and made a negative impact. I very sincerely on behalf of Pizza Hut apologise to you."