London underground users with latent illnesses or disabilities will be provided with their own version of the 'Baby on Board' badge from 12 September to prompt other passengers to offer them a seat on busy trains.
The trial of the new 'please offer me a seat' badge is the second design by TfL, following the very successful 'baby on board' designs that made pregnant women known to fellow tube users without anyone having to utter a word. It is hoped that the new badges will have the same effect for those with hidden illnesses and disabilities who need to sit down whilst travelling.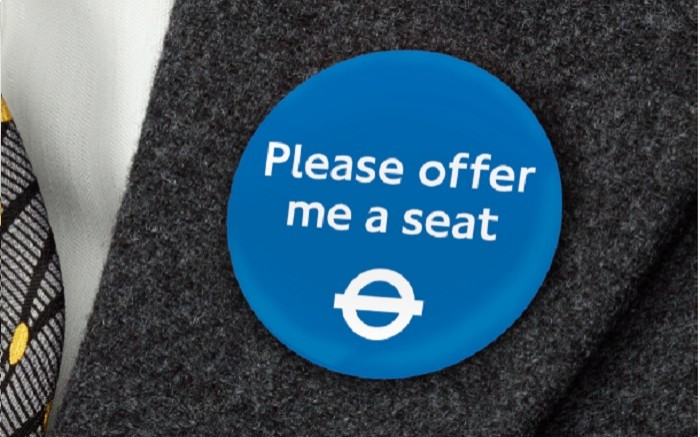 TfL will initially be sending out 1000 people to wear these badges on their journeys to test public reaction. The testers will also have a card that can be shown to TfL staff.
One of the people taking part in the trial is James McNaught, who had previously produced his own 'cancer on board' badge whilst undergoing radiotherapy.
He told the BBC: "Getting a seat on transport when you need it can sometimes be really tricky, especially if the reason you need to sit down isn't obvious to others.
"When I was undergoing radiotherapy for throat cancer, it meant I couldn't talk to ask for a seat and the morphine I was taking made me appear drunk. It was a real struggle to get people to understand why I needed to sit down. A badge and card could help make a real difference to the lives of people undergoing drug treatment or with longer-term conditions or disabilities."
Mayor of London Sadiq Khan has taken to Facebook to promote the new scheme. "We hope that these new blue badges can make a real difference to those who find it difficult to get a seat when they need one, particularly those with hidden disabilities. Everyone who travels around London knows about the success of the 'Baby on board' badges.
"I want Londoners to embrace our new trial and help these blue badges become as instantly-recognisable, giving confidence to those wearing them on public transport across London."
The first trial will run for six weeks before a more permanent decision is made.