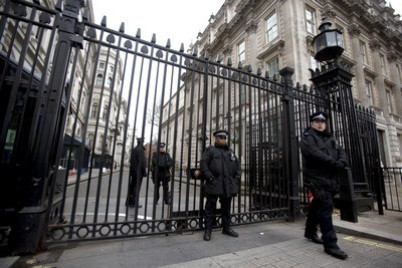 Police officers at the heart of the 'Plebgate' scandal which brought down a government minister have been ordered to apologise personally for misleading a powerful Commons committee or face proceedings for contempt of parliament.
If the officers refuse to attend the new hearing next week, or fail to offer an appropriate apology, they could face jail. There is even a cell in the Palace of Westminster, underneath the clock tower, where they could be held.
Such extreme action would be unprecedented in modern times, but the Chairman of the Home Affairs committee, Keith Vaz, is so angered by the officers' behaviour he has warned them they could face the most severe consequences.
The entire Plebgate scandal has now escalated into 'Plodgate' and sparked a full-blown crisis in the police force with officers accused of 'stitching up' a government minister, former Chief Whip Andrew Mitchell, as part of a political campaign against cuts, then covering up the affair for months and escaping any disciplinary action.
It has drawn in senior officers across the UK after investigations failed to recommend action and Prime Minister David Cameron is under pressure to offer his own apology to Mitchell and to re-instate him to the cabinet as soon as possible.
The latest twist to the long and complex affair is a devastating report from the Home Affairs committee into the behaviour of officers when giving evidence last month. Vaz said the MPs were "appalled" at the way the officers attempted to mislead.
In a highly unusual warning he said: "We have recalled them to correct the record and if they do not, they will be in prima facie contempt of parliament.
"The narrative of what we have seen could rival any great work of fiction. At every point and at every level, instead of being transparent, we have uncovered a process that obstructs the truth. If this can happen to a cabinet minister, what hope is there for anyone else?"
The Independent Police Complaints Commission (IPCC) has also announced it is launching yet another inquiry into the officer's behaviour which could see them kicked out of the force. A previous investigation said they had no case to answer, but the IPCC disagreed.
The scandal started in September 2012, when Mitchell was accused of calling Downing Street officers "plebs" after they refused to let him ride his bicycle through the main gates. He confessed to swearing but denied using the toxic word "pleb", but eventually resigned. Inquiries into that incident continue.
Police officers' 'mendacious' account
The latest affair surrounds a meeting investigating officers, Det Sgt Stuart Hinton, Insp Ken MacKaill and Sgt Chris Jones of the Police Federation, later had with Mitchell and which they were accused of deliberately misrepresenting.
But investigations said they had no case to answer and, when the three appeared before the Home Affairs committee, they maintained their innocence and refused to apologise to Mitchell. They also gave what the MPs claim was a deliberate, sometimes "mendacious" account of their actions.
Det Sgt Hinton is accused in the report of lying by denying he referred to Home Secretary Theresa May as "that woman" while Sgt Jones was accused after insisting he had not been involved in disciplinary inquiries in the past although there appear to have been 13 complaints against him.
Chief Constables who handled complaints against the officers were also severely criticised for a "lack of leadership".
Overall, the report paints a highly critical picture of the entire incident running from the junior officers right through to some of the most senior investigators. It will add to the growing sense of dismay at the way all those involved acted as a law unto themselves, more interested in covering their own tracks than getting at the truth.
It will increase pressure on the prime minister to reinstate Mitchell and, along with other politicians, offer his own apology.
And it will further press Home Secretary Theresa May to beef up the independent police watchdog to ensure any future inquiries are genuinely impartial, well resourced and competent.