A Facebook post by a United States soldier has gone viral, with a screenshot picturing him 'taking a break' from fighting Islamic State (Isis) in Iraq to play a little bit of Pokémon Go. Louis Park, 26, is currently fighting Daesh in Teleskuf in northern Iraq.
The picture shows a Squirtle to the right of Park's mounted machine gun. Alongside Park wrote: "Just caught my first Pokémon on the Mosul front line by Teleskuf. Daesh, come challenge me to a Pokémon battle. Mortars are for pussies."
The post went viral, so viral that Park eventually made the post private, but there's still a screenshot of it above. The Verge spoke to Park about his new-found fame as the source of just one of the many weird and wonderful stories to come out as the game continues its enormously popular launch worldwide.
"I saw my friends playing it back home, so I just downloaded it," said Park. "On the front line I was only able to catch the starters, but here in Dohuk they've got gyms and PokéStops and everything." He said he was a "huge fan" of the series, but that his time playing Go has been limited due to poor signal and – you know – being in the army.
Park is a former US Marine who volunteered to return to Iraq and fight Isis in late 2014. "I was one of the first 20 or so people to come out here," says Park. "I was just getting out of the service and I wanted to go do something."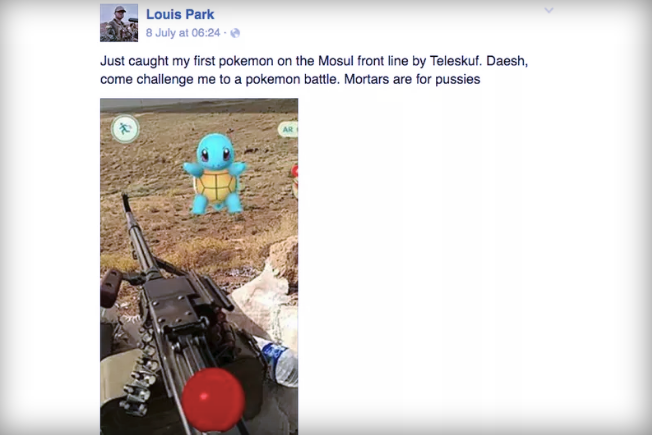 Pokémon Go has proved enormously successful having been initially released in a few territories worldwide. It's not yet available in the UK (at least not officially) but is in New Zealand, Australia and the US. The UK, European and Japanese releases are expected "within days".
Go uses location data to populate the real world with Pokémon to be found, caught and battled with for control of gyms found at local landmarks like pubs, parks and train stations. The game has seen incredible scenes around the world, with hundreds gathering to play the game in public spaces where Pokémon are available.
For all the latest video game news follow us on Twitter @IBTGamesUK.