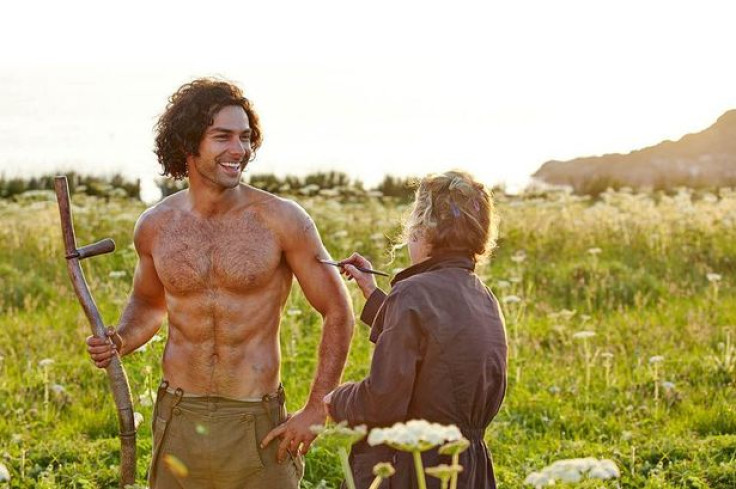 BBC hit show Poldark has undoubtedly made some waves with the alluring Aidan Turner at the helm.
But the 33-year-old Irish actor came into trouble while filming on the Cornish sea for the programme and was injured by a freak wave.
During filming for Poldark – the second series begins next weekend after its debut season was a huge hit for the Beeb – Turner revealed that he was hurt and even dropped co-star Eleanor Tomlinson, who plays Demelza, in the off-chance incident.
Turner – who has acquired a reputation as something of a hunk since finding himself in the limelight – was injured off the Cornish coast after a wave slammed a boat into his head.
He told Radio Times magazine: "There's nothing like the Cornish sea at the height of winter for putting you in your place. We were filming me lifting Demelza out of a boat in the actual sea when this huge wave picked up the boat and slammed it into my head.
"I dropped her in the water – not very Ross Poldark [referring to his romantic character in the show]. And nobody was coming to see if I'm OK. I was the man injured..." he added.
The finale of series one last year saw Poldark arrested for murder – but the new series sees him face capital crimes while he and wife Demelza are still dealing with the death of their daughter, Julia. But will it stay afloat when it goes head to head on Sunday night with ITV's rival period drama series, Victoria, starring Jenna Coleman? That remains to be seen.
Fans have already started wondering which show will do better, with one viewer writing on Twitter: "Really enjoying #Victoria it will be interesting to see how it competes though with favourite(including mine) #Poldark next week," while another put: "When you realise that Poldark will go out at the same time as Victoria and you must choose between @AidanTurner and @Jenna_Coleman­_"
Poldark's official Twitter account has been hyping up the second series with a series of tweets, with one of the latest posts reading: "6 more days until #Poldark returns to our TVs where it belongs! Just as our Demelza belongs at Nampara..."
Describing filming on freezing Cornish beaches, Turner told the publication: "The lead actors on any show end up setting the energy level, and if somebody is grumpy, it's hard to get the crew going. So no matter how cold it is, you just have to man up and get on with it."
But did he reveal any spoilers? Well, not technically, but he did say that things get a lot worse for his character. He said: "You'd think at the end of season one it can't get any worse for these guys. Ross's company's bankrupt, they're completely broke and they've just lost their child.
"But it just slowly does get worse...there's prison... all sorts. But Ross is more comfortable when he doesn't share with anybody, he just takes the burden and the responsibility all himself."
Poldark returns to BBC1 at 9pm on Sunday (4 September).