Authorities believe murdered Greek ambassador Kyriakos Amiridis was killed by a local policeman who was having an affair with his wife, police said on 30 December.
Sergio Gomes Moreira Filho, 29, confessed to strangling Amiridis to death, the BBC reported police as saying, just one day after the envoy's body was found in a burnt out car on the outskirts of Rio de Janeiro.
Local media outlets have reported that police in Rio de Janeiro believe the ambassador's wife Francoise Amiridis, 40, had an extra-marital affair with Moreira and are viewing the ambassador's death as a crime of passion.
Françoise Amiridis has being detained for questioning along with Moreira and his cousin Eduardo Melo, and it is reported they will now be held in custody for a further 30 days.
"Francoise initially denied the facts. She said she had nothing to do with that. We managed to make her see that she had no alternative and that there was no point in continuing to deny it," the BBC reported investigator Evaristo Pontes Magalhaes as telling a press conference.
"She fell into contradictions, burst into tears and began to say that the police officer [Moreira] had carried out her husband's murder."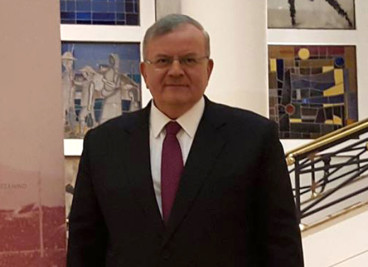 Magalhaes told press Moreira had fought with the ambassador and claimed he was acting in self-defence.
Ambassador Amiridis was reportedly seen last on Monday, (26 December) departing from the home of his wife's friends, which is in a poor and violent neighbourhood of Rio, police said on Thursday.
Authorities did not immediately confirm the body found in the boot of the burnt-out rental vehicle was Amiridis, but told media outlets it was him on 29 December.
The diplomat previously served as Greece's consul general from 2001 to 2004 in Rio. He was also Greece's ambassador to Libya from 2012 and accepted the Brazil post in the beginning of this year.