A fugitive wanted for decapitating his aunt and uncle, sexually assaulting a 15-year-old girl and several shootings across Oklahoma has been killed in a shootout with police.
Michael Dale Vance Jr was shot dead in a final "dramatic" showdown with police after a crime rampage that began over a week ago. He was awaiting trial for the sexual assault of a 15-year-old girl before his crime spree started on 23 October.
Vance died whilst being wanted on multiple charges, including two counts of first-degree murder over the brutal deaths of his aunt and uncle, Ronald and Valerie Wilkson.
The 38-year-old was alleged to have shot and wounded two police officers in Wellston, 35 miles (56km) northeast of Oklahoma City, before stealing a car from a trailer park and shot at one of the mobile homes.
That evening, the bodies of his two family members were discovered in an abandoned car in Hammon.
Officers say that attempts had been made by the killer to hack at the bodies. Both were stabbed, and Ronald was also shot. Based on the stab wounds, the killer had apparently tried to behead Ronald and dismember his wife.
The next day, Vance was then spotted in Sayre, east Oklahoma, where he fired shots and attempted a carjacking, striking a man in the leg, who was rushed to hospital in a critical condition. During his rampage, he streamed live on Facebook, in which he appeared to be wearing a blood-stained T-shirt.
Then on Sunday (30 October) Vance shot Dewey County deputy Clay Sander in the arm, leaving him with non-life-threatening wounds. Later that evening Vance was sighted in a stolen vehicle where he was engaged by police.
"There was an exchange of gunfire between the state trooper and the subject, and the subject was killed," Dave Turk, from the US Marshals Service said according to the Daily Mail.
"It was pretty dramatic. We pinned him down," OHP Chief Ricky Adams added. "He's dead. ... It was an extremely good job of police work by every agency involved."
Sheriff Shane Booth of Ellis County Sheriff's Office said on Facebook: "The manhunt is over and all Ellis County deputies are fine. Unfortunately, one officer was shot and he is one of my best friends. So, I'm asking for prayers for him. Thank you."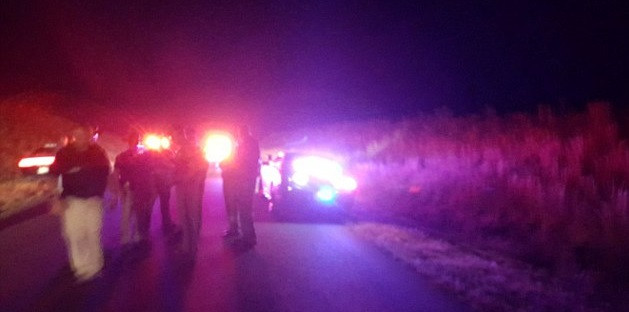 Police feared that Vance, who has been reported locally as being HIV positive, would try and spread the disease using his blood. It also emerged that he had a "hit list" of people he intended to harm who all received police protection.
He declared in his first Facebook video: "It hurts, it sucks. America, you knew this would happen," he said. "That I would get my guns and... you're lucky it went down this way. I was coming for you. This is more intense than I thought it was going to be, to say the least.
"This truck is about dead. I need to get out of the road. I'm about to steal another car. Like, right now."
In another video he said: "This ain't a joke. This ain't a prank. This is where it gets interesting. If you want to know what happens next, stay tuned to your local news channel."