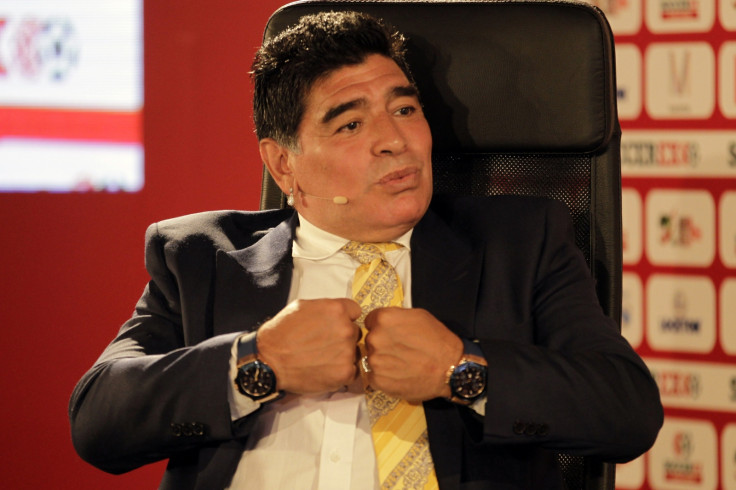 Police were called to a hotel in Madrid following allegations of an altercation between former football star Diego Maradona and his girlfriend Rocio Oliva.
The alleged incident occurred at 8.30am on Wednesday (15 February) morning at the Eurostars Suites Mirasierra in the Spanish capital when Oliva, 26, reportedly called the hotel's reception claiming that she was being attacked.
Police arrived at the hotel to speak with the 56-year-old football star and his fiancee, who described the incident as a "strong argument".
While officers remained at the hotel for two hours, a complaint was not filed by either party, Mail Online reports.
The pair were apparently celebrating Valentine's day together prior to the alleged assault. The day prior, Oliva had shared a happier scene, uploading a picture of the couple enjoying themselves at the hotel's spa along with the caption 'I love you, my love'.
It's the second time the couple have been at the centre of reports of alleged domestic violence. In 2014, the football legend provoked the wrath of thousands of fans after footage allegedly showing him attacking his girlfriend emerged online.
A 30-second clip of the 1986 World Cup winner allegedly attacking Rocio Oliva was leaked to the press.
The disturbing video, originally aired by Argentine TV programme Nosotros al Mediodía appeared to show an allegedly intoxicated Maradona getting irate before hitting Oliva multiple times.
At the time Maradona denied he hit his girlfriend, claiming he was slapping the telephone out of Oliva's hands. "Yes, I threw the phone but I swear to God that I have never raised my hand against a women," he told Argentine journalist Marina Calabró.
Maradona was also involved in an alleged incident with COPE journalist Ángel García, who claimed the former Barcelona and Napoli star had attacked him while he tried to interview him.
On Tuesday, (15 February) Spanish media released a video of Maradona threatening a reporter who tried to talk to him at the hotel in Madrid. The reporter said the ex-footballer struck him as he passed by, however Maradona rejected his claims. He is heard on video insisting: "I didn't hit you, if I hit you, you will lose your nose. Know that if I fight you one-on-one, I'll destroy you,"
Maradona was Napoli's biggest star in the late 1980s and early 90s and a footballing icon for millions. He was in the Spanish capital with his girlfriend to watch former club Napoli play Real Madrid in the last 16 of the Champions League.