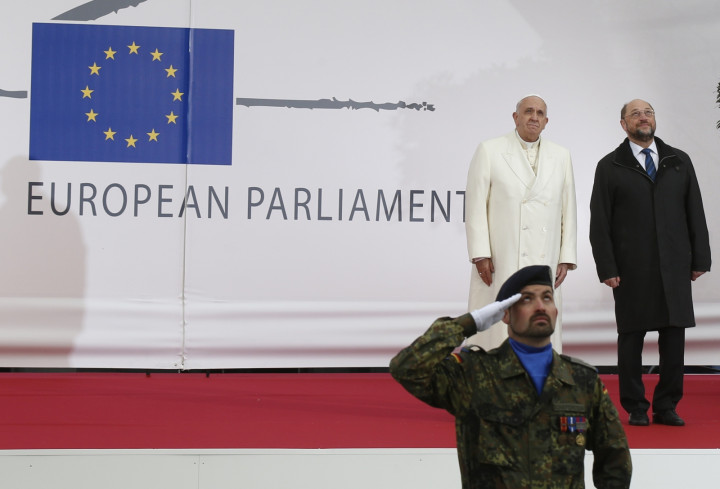 Pope Francis has urged European lawmakers to take swift and concerted measures to address the migration crisis in the Mediterranean Sea.
Addressing the EU parliament in Strasbourg, the pontiff said member states should give "united response" to the arrival of hundreds of thousands asylum seekers.
"Allowing the Mediterranean Sea to become a vast graveyard is intolerable," Francis said, speaking in Italian.
"The boats that reach European shores every day carry men and women that are in need of help and acceptance".
Francis lashed out at Europe's "culture of reject" and urged EU institutions to put people and ideals back at the centre.
"One of the most common diseases in Europe today is loneliness," he told MEPs. "You can see it in the eyes of migrants who came here seeking a better future."
The pontiff showed his strong support for migrants embarking on a perilous journey to Europe in July last year, when he travelled to the Italian island of Lampedusa for his first pastoral visit outside Rome.
The island is a major hub for migrants who leave the shores of northern Africa seeking a better life in Europe.
There Francis lashed out at the "globalisation of indifference" towards them, saying that the western society had "forgotten how to cry".
"The culture of our own well-being makes us insensitive to the cries of others."
His new appeal for greater tolerance and inclusion in Strasbourg comes as anti-immigration sentiments are increasingly taking foot across the continent.
Several nationalist parties, including Britain's UKIP and France's National Front (FN) performed strongly at the EU parliamentary elections in May.
Francis's visit to the EU political body was criticised by part of the secular society.
The Vatican however stressed it was not a political visit, as Francis had been invited at the EU headquarters in his quality of moral authority.
"He is not coming as a statesman," Vatican spokesman father Federico Lombardi said, Deutsche Welle magazine reported.
The pontiff's four-hour trip to the French city also upset many local Catholics that felt neglected as Francis is not to meet them or celebrate mass at Strasbourg cathedral.
In Strasbourg, Francis was welcomed by the president of the EU parliament, Martin Schulz. The presidency tweeted:
The last pontiff to address MEPs in plenary session was John Paul II on 11 October 1988.