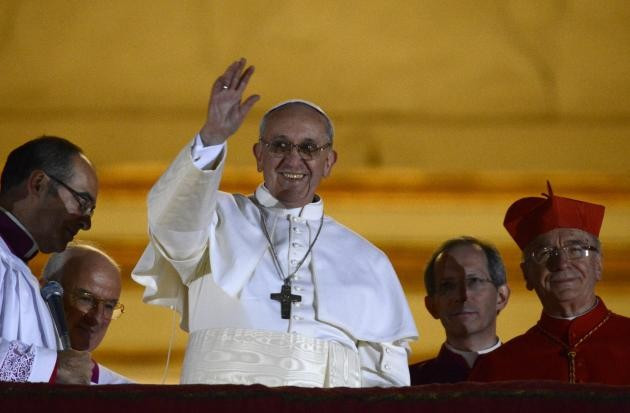 Billowing white smoke emerging from the roof the Sistine Chapel signified the 115-cardinal conclave inside had elected a new Pope - his name was Jorge Mario Bergoglio.
Cardinal Bergoglio, who took the name Pope Francis after St Francis of Assisi, became the 266th Pope after his predecessor Pope Benedict resigned citing a "lack of strength of mind and body".
During the first year of his papacy, Francis, who has lived his life under a "vow of poverty", has been credited with reinvigorating the church, notably cementing his revolutionary status and grass-roots appeal by appearing on the cover of Rolling Stone magazine.
But what happened during the first year of his papacy? IBTimes UK charts some of the key events from Francis' first 12 months as Supreme Pontiff.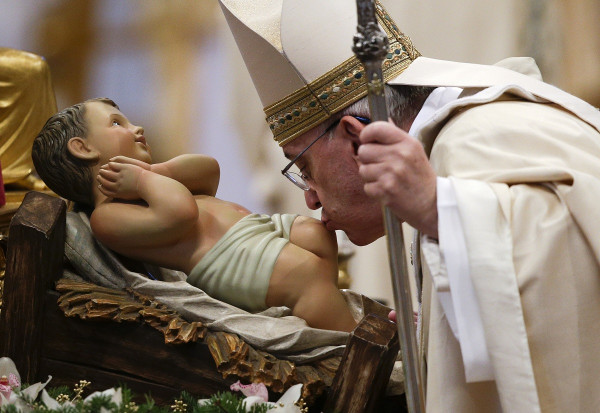 March
The newly elected pope visits the Rome hotel he was staying at before his election and pays the bill.
He tells fellow Argentines not to travel to Rome for his inauguration, instead urging them to give the money to the poor.
For the first time in at least 600 years a reigning pope and a former pope face each other for the first when Francis meets his predecessor, Pope Emeritus Benedict
He also decides to shun more regal apartments to live in a simple guest house with other tenants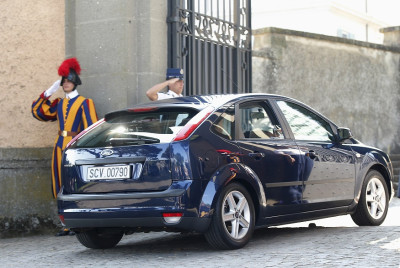 April
Says the Catholic Church will "act decisively" to end sexual abuse of children by priests.
Sets up an advisory board of cardinals from around the world to help him govern the Catholic Church
May
Francis calls for financial reform, condemning a heartless "dictatorship of the economy".
June
Pope launches first steps to reform the Vatican Bank after setting up a special commission to get to grips with the institution that has been a source of embarrassment the Church for decades.
A senior cleric with close ties to the Vatican bank is arrested for plotting to help rich friends smuggle tens of millions of euros in cash into Italy from Switzerland.
July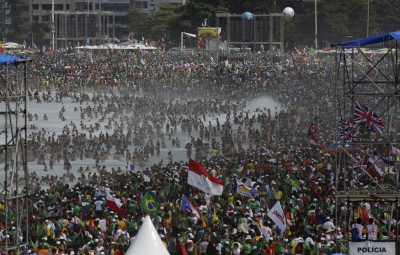 Pope visits Sicilian island of Lampedusa to commemorate thousands of migrants who have died crossing the sea from North Africa.
More than 3,000,000 people flock to Copacabana Beach in Brazil during the last day of a visit to Brazil
During a conversation with journalists the Pope coins the now-famous phrase: "If a person is gay and seeks God and has good will, who am I to judge him?"
September
Says church must shake off "obsession" with teachings on abortion, contraception and homosexuality and become more merciful.
During a speech in in Cagliari, Sardinia, Francis, Francis attacks the global economic system, saying it could no longer be based on a "god called money".
October
Visits Assisi, the birthplace of St Francis whose name he adopted after his election, and announces the church must strip itself of all "vanity, arrogance and pride" and serve the poorest.
December
In his first Christmas as pope, Francis calls on atheists to unite with believers for peace.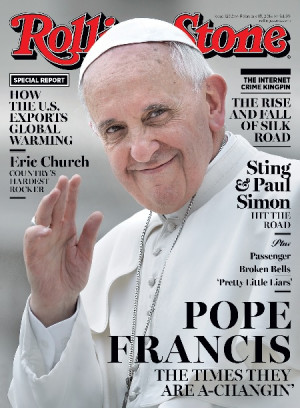 Pope Francis is named as Time Magazine's Person of the Year for 2013.
January
Appears on the front cover of Rolling Stone magazine
February
A UN committee accuses the Vatican of systematically turning a blind eye to decades of sexual abuse.
March
The pope begins a week-long Lenten spiritual retreat south of Rome, the first time in living memory it is held outside the Vatican.
Sources: Reuters, Vatican, BBC