Pope Francis, who once described the internet, social networks and text messages as a "gift from God", may be one of the most tech-savvy pontiffs so far, embracing social and digital media as powerful tools to reach more people. However, the pope has not shied away from warning people about the potential dangers of technology.
Wrapping up his five-day trip to Poland with a huge outdoor mass at the Catholic Church's World Youth Day festival, Pope Francis urged young people to swap their sofas, video games and computer screens for walking boots and social activism.
"Dear young people, we didn't come into the world to vegetate, to take it easy, to make our lives a comfortable sofa to fall asleep on. No, we came for another reason - to leave a mark," he told a crowd of an estimated 1.5 million people in a huge meadow in Brzegi, just outside Krakow.
"The times we live in do not call for young couch potatoes but for young people with shoes, or better, boots laced."
Peppering his homily with technology and social media lingo, the 79-year-old pope spoke about the dangers of modern escapism and giving in to the illusion of safety from the dangers, fears and worries of everyday life by retreating into video games and computer screens.
"For many people it is easier and better to have drowsy and dull kids who confuse happiness with a sofa," he said.
He said people cannot respond to the challenges of life by "texting a few words", but to find time for prayer "in all the 'contacts' and 'chats' of each day". He explained that God's memory "is not a 'hard disk' that 'saves' and 'archives' all our data, but a heart filled with tender compassion, one that finds joy in 'erasing' in us every trace of evil."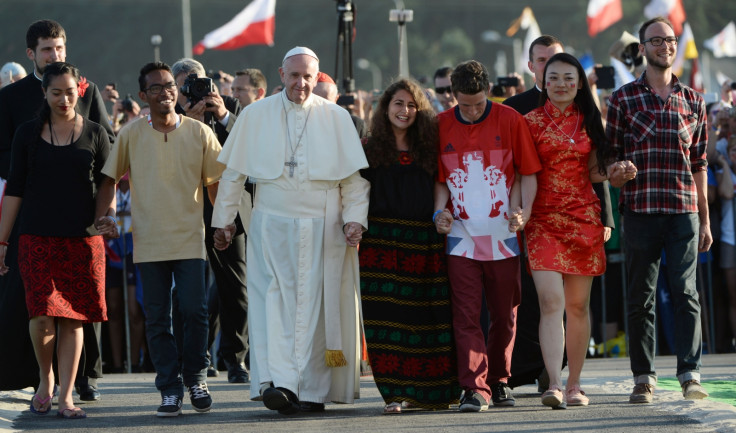 He also urged young people to "download the best link of all, that of a heart which sees and transmits goodness without growing weary".
The Sunday Mass was the culmination of the week-long event that drew hundreds of thousands of young Catholics from across the globe. The event is held in a different city every three years. Between 2.5 and three million people attended the final celebration, World Youth Day spokesperson Anna Chmura told AFP. According to Polish police, the event was attended by "over 1.5 million".
The pontiff announced that the next World Youth Day will take place in Panama in 2019.