A British jihadist who posed as a holidaymaker before crossing the Turkish border to fight for Isis (Islamic State) in Syria has been killed, according to his mosque.
Mamunur Roshid was one of five British men who flew to Turkey in October 2013 under the pretence of going on holiday to the country.
But the group - who reportedly called themselves the Britani Brigade Bangladeshi Bad Boys - travelled to Turkey so they could cross into bordering Syria to join terrorist group Islamic State.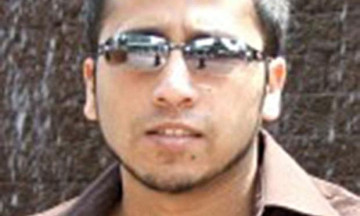 One of Roshid's friends, Mashudur Choudhury, was arrested weeks later at Gatwick airport upon returning to the UK while suspected extremists Assad Uzzaman and Mehdi Hassan are still thought to be in Syria fighting for IS.
Ifthekar Jaman, 23, and Muhammad Hamidur Rahman, 25, who left the UK last May, were the first two Britons killed in Syria in the last 12 months.
Now Roshid has become the third Briton to die fighting for IS after his parents told the Jami Mosque in Portsmouth he had been killed on Friday (17 October) .
CCTV showed the men casually walking through Gatwick airport, in Sussex, before boarding a flight to Turkey.
But it was there that the fanatics made the journey into Syria where IS has been fighting to install a Muslim caliphate across the Middle East.
It is thought Roshid may have been killed while fighting in the strategic town of Kobani, which lies on the Syrian border with Turkey, where Kurdish fighters have been desperately fighting off fierce attacks from IS.