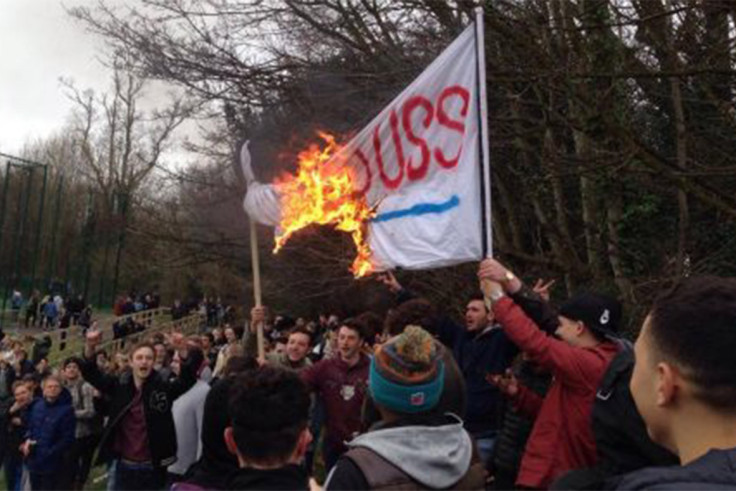 A student rugby match descended into an ugly brawl between rival supporters on Sunday (19 March). The Varsity encounter between Sussex and Brighton men's rugby teams had to be cancelled after tempers spilled over.
Police were called to the scene at the Brighton University campus in Falmer, East Sussex, and arrested a student on suspicion of carrying a weapon. They were later released pending further investigation.
Paramedics attended to numerous people with injuries at the grudge fixture between the neighbouring south-east institutions.
"It was really scary. The mood was hostile even before the match and then started to erupt after kick-off," a witness told The Times
A statement by Sussex University students' union alleged that some of the chanting had included "misogynistic, homophobic and racist language", though this has not been independently confirmed.
There were also reports that violence erupted after Sussex students goaded their Brighton rivals with chants such as "Your dad works for my dad" and "We get AABs, you get STDs". Several witnesses described the principal antagonists as "posh boys".
Both universities' condemned the disorder in a joint statement. It read: "The scenes witnessed today at the annual varsity sports day were shocking and disgraceful.
"A full investigation has been launched into events and any students identified as having participated in the disorder will face serious consequences under our codes of discipline. We unreservedly condemn the behaviour."
Sussex Police said in a statement: "Police were called to a report of a large fight that had broken out among spectators at a varsity rugby match at Falmer on Sunday.
"There were reports of bottles being thrown at the match between Sussex and Brighton universities and a number of people being injured.
"Police are examining CCTV of the incident and want to speak to anyone who was injured or who may have witnessed or have information about the incident.
"A 19-year-old man from Falmer was arrested at the scene on suspicion of possession of a bladed or pointed article in a public place. He was dearrested for inquiries to be progressed."