Libya has become the main point of departure for migrants and refugees trying to cross the Mediterranean by boat to Europe since the route between Turkey and Greece was largely closed off last year. A record 181,000 made the journey last year, most on flimsy boats operated by people-smugglers. The death toll in the Mediterranean – the most dangerous border crossing on the planet for migrants and refugees – is estimated to be at least 5,000 last year.
Award-winning photojournalist David Ramos joined the crew of the Spanish NGO Proactiva Open Arms vessel Golfo Azzurro during a search and rescue mission off the coast of Libya for migrants who continue to make the perilous journey across the Mediterranean in hope of reaching the European mainland.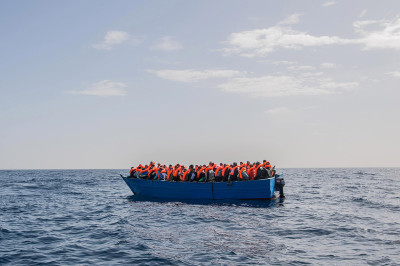 Proactiva Open Arms is a Spanish charity based in Malta providing search and rescue assistance to refugees and migrants in distress at sea. Find out more here.
At least 160,000 protesters marched in Barcelona over the weekend to demand that Spain's conservative-led government increase its efforts to take in refugees from war-torn countries like Syria. Spain has accepted just 1,100 refugees of the over 17,000 it has pledged to take in. In contrast to Spain, fellow European Union member Germany took in 890,000 asylum-seekers in 2015 and another 280,000 in 2016. Last year Germany decided on more than 695,000 asylum applications. Nearly 60% of the applicants were granted either full refugee status or a lesser form of protection.