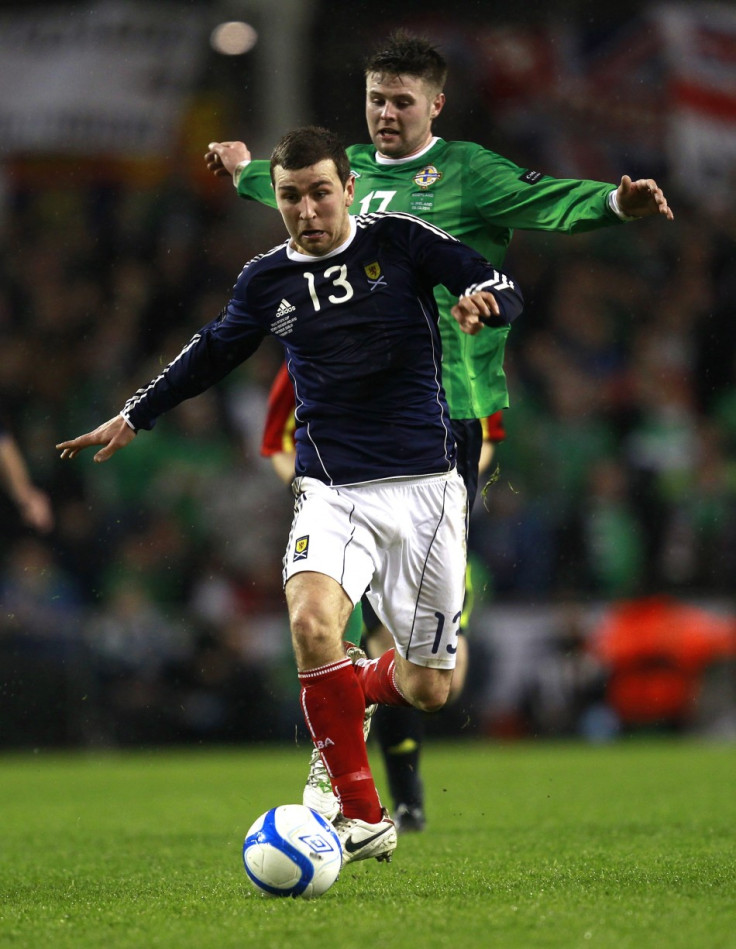 Oliver Norwood admits he is not ready to forsake his childhood dream of playing for Manchester United, and hopes to follow in the footsteps of Tom Cleverley, by using his loan at Scunthorpe United as a stepping stone to Sir Alex Ferguson's first team.
With opportunities in the Manchester United midfield evidently limited, Norwood was sent out on loan to League One side Scunthorpe at the end of August, but the defending Premier League champions have paid a keen interest in his development.
The 20-year-old, who spent part of last season on loan at Carlisle United, revealed Manchester United's reserve team coach Warren Joyce and the recently retired Paul Scholes, who has remained at Old Trafford in a coaching capacity, have continued to monitor his form for the Iron.
Whilst Norwood has readily admitted he has enjoyed his time spent away from Manchester United, the former England youth international suggests he is not yet ready to forsake his Old Trafford dream.
"It has been a dream since I was six or seven years old to play in United's first team and I just have to work hard and put in the extra yards to get there," Norwood told skysports.com.
"I am really enjoying it at Scunthorpe. I have started every game since I have been here and it is about getting games coming out on loan and I have done well to play every game.
"The gaffer sent Scholes to watch me against Huddersfield when I scored my first goal and it was nice him being there.
"Warren Joyce follows the lads on loan and I am sure he reports back to the gaffer and he is the one that makes the decisions."
Although eager to eventually forge his own reputation at Old Trafford, Norwood suggests the form of Tom Cleverley in his debut season as a Manchester United first-team regular, has offered every young player on the club's books a huge boost.
Like the aforementioned Northern Ireland international, Cleverley learnt his trade on loan in the lower leagues of English football, initially at Leicester City in League One and finally at Wigan Athletic last season, via a spell at Watford, during which he was named the Hornets' Player of the Season.
Norwood believes Cleverley is a prime example of a player using the loan system to further his career, and the midfielder sees no reason why he cannot join Cleverley in Manchester United's midfield when he returns.
"When Tom was younger you could always see he was going to be a good player and he has done extra stuff off the pitch and he has now made himself a great midfield player," added Norwood.
"It all started in League One for him and he's worked hard to get to where he is and there is no reason why, if I put the work in, that I couldn't hopefully do the same."
Speaking in September, Norwood expressed his delight at being afforded the opportunity to play first team football, suggesting Ferguson had urged the young midfielder to seize his opportunity.
"I'm playing regular first-team football against some big clubs and it's been a great move for me," Norwood told BBC Radio Humberside.
"I'm hoping to play every game as it comes and see where it takes me.
"If [Ferguson] wants to call me back to United if I do well here then so be it, but if he wants me to stay then I'm happy to stay as it's been brilliant and I've really enjoyed every minute of being here," he said.
Norwood added that he had received plenty of encouragement from the Manchester United boss ahead of the move.
"He said to just come and enjoy myself," Norwood continued. "Go and show people what a good player you can be, express yourself and be confident and play the passes you do when you are with us."