President Donald Trump's presidency has been a strain on his family, particularly his wife and youngest son, the president has said.
In an interview on Sunday (30 April), Trump blasted criticisms of First Lady Melania Trump and noted how difficult it would be for their young son Barron to leave his school in New York.
"There is no question, it is a big burden on the family," Trump told conservative newspaper the Washington Times.
He lamented how his wife has been treated by the media.
"She's been terribly abused by the press, really unfairly," he said. "She's a high-quality person. She's been amazing for the country."
But he claimed she was winning over her critics.
"She's been a great representative, I think," Trump said. "In fact, her polls: She went up 29 points, did you see that? But she's been very highly abused by the press, which was very unfair. And now people are starting to know her."
The Washington Times noted that an early March poll by CNN found Melania Trump held an approval rating of 52% — more than double her score of a year earlier.
The First Lady and the couple's 11-year-old son have remained in New York City until he finished the school year. Trump confirmed that they would move to Washington DC after the school year ends but noted the transition would be difficult for Barron.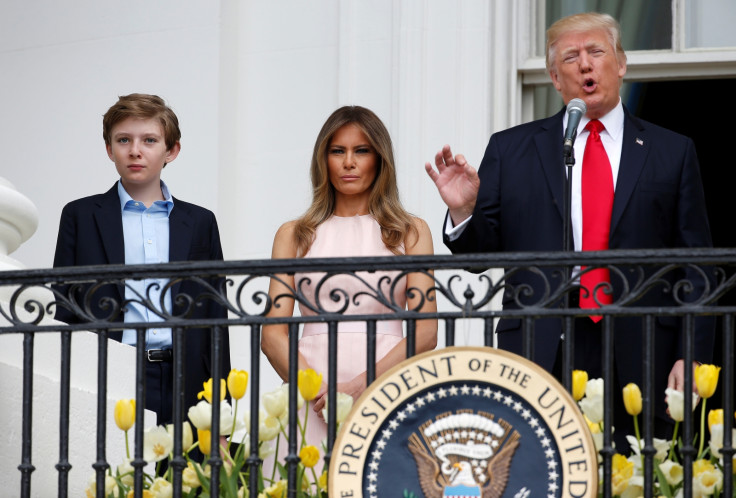 "I have a son who's a very young boy – he just turned 11," the president said. "He'll be taken away from his school and be put into a brand new school. He likes playing on his soccer team in New York, they're all of his friends, and you know he'll be taken away from that team. We didn't want to do it in the middle of a season."
The White House has not announced which school Barron will attend in the capital. Barack and Michelle Obama faced a similar dilemma in 2009 with their daughters who were then aged seven and 10. Sasha and Malia Obama attended Sidwell Friends School in Washington.
Booed in Germany
The current president was more upbeat about his eldest daughter, Ivanka who was booed in Germany last week after defending what she said was her father's commitment to protect women. The president downplayed the audience's reaction, calling it "very minor".
"I listened to that, and you had to listen pretty [carefully]—that was not booing like we all know it," he said. "She gave an answer, and she's cool. She can handle it."
The president has been particularly forthcoming in recent interviews. Last week, he told Reuters that he had believed being president would be easier than his previous job. And in an interview with CBS' Face the Nation, he shared his thoughts about North Korean leader Kim Jong-un, whom he called a "smart cookie".