US President Donald Trump has called for renewed sanctions on North Korea amid escalating tensions between the two countries.
North Korea has tested a number of ballistic missiles in recent weeks and could reportedly fire its latest test as soon as Tuesday (25 April).
In response to the confrontations, the US Navy has ordered the USS Carl Vinson to the Korean peninsula, but the move triggered an angry response from the rogue state, which promised to sink the aircraft carrier.
Addressing 15 Security Council ambassadors to the United Nations, including those of Russia and China, at a meeting in the White House on Monday (24 April), Trump said immediate action must be taken to stop Pyongyang's provocations.
"The status quo in North Korea is also unacceptable," Trump said, reported Reuters.
"The [security] council must be prepared to impose additional and stronger sanctions on North Korean nuclear and ballistic missile programs.
US officials told Reuters that tougher sanctions could include an oil embargo, banning North Korea's airline and punishing foreign banks that continue to trade with the country.
"This is a real threat to the world, whether we want to talk about it or not," Trump added.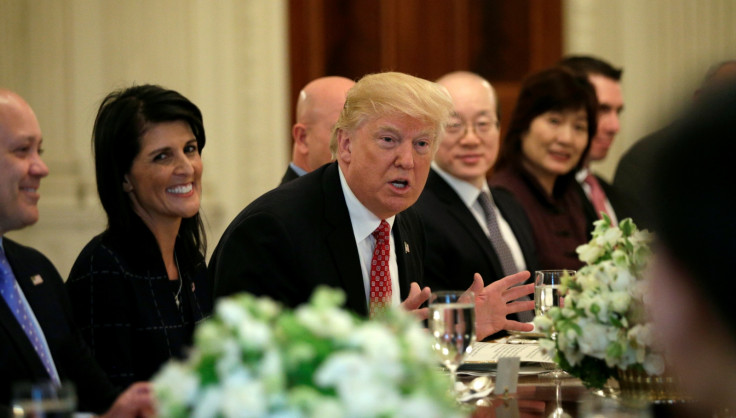 "North Korea is a big world problem and it's a problem that we have to finally solve.
"People put blindfolds on for decades and now it's time to solve the problem."
Trump's comments come as he summoned the entire US Senate to the White House for a briefing on North Korea on Wednesday (26 April).
It is not uncommon for US government officials to address members of the legislature on foreign policy and national security matters, but it is unusual for all 100 Senators to be invited.
Trump also discussed North Korea in phone calls with German Chancellor Angela Merkel and Chinese President Xi Jinping, who urged the president to show "restraint" in handling North Korea's Supreme Leader Kim Jong-un.