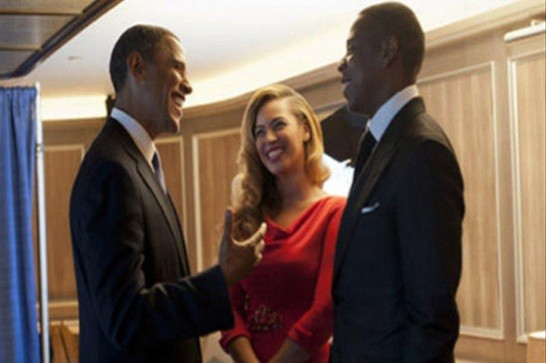 President Obama has praised Jay-Z and Beyoncé after they helped raise more than $4m for his re-election campaign.
The power couple, who have always been strong supporters of Obama, hosted a $40,000-a-plate exclusive fundraiser in Obama's honour at Jay-z's 40/40 Club.
The 100 guests sat down to dinner and champagne worth $300 at the Manhattan club, reports said.
A few lucky supporters who could not afford the sky-high price were allowed in by Beyoncé if they donated just $9 to the Obama campaign by midnight before the event.
"I can't tell you how proud we are to host tonight's event with President Obama," she said. "We believe in his vision."
When he took the stage, Obama applauded Beyoncé for being a role model to his daughters, Sasha, 11, and Malia, 14. He also joked about the things he has in common with Jay-Z.
"We both have daughters and our wives are more popular than we are. So we've got a little bond there," he said. "It's hard but it's OK."
"Beyoncé could not be a better role model for my girls," Obama added. He said that wife Michelle and their daughters were upset that they could not be present.
The 31-year-old singer wore a red cocktail dress for the event, while her 42-year-old rapper husband opted for a black suit and tie.