Pretty Little Liars season 6 will finally answer questions about Charles's identity, after the season 5 finale left fans in a conundrum.
Though rumours doing the rounds suggest that Andrew is "A" (Charles), show writer Maya Goldsmith has hinted that the spotlight will now shift on Ezra (Ian Harding) in the upcoming season.
"You can never rule anyone out [as an A suspect] because A always has ways of monitoring one situation and being somewhere else, so no, you can never rule anyone out," Goldsmith told Bustle.
She replied to a fan's question and confirmed that Aria's boyfriend will be present in the upcoming episodes of PLL season 6. She tweeted: "Yep, we got Ezra in our eps:)".
.@halesloverxo Yep, we got Ezra in our eps:)

— Maya Goldsmith (@Maya_Goldsmith) April 9, 2015
Goldsmith also teased a special guest appearance in episode 5, but did not reveal anything further. Currently she is writing the fifth and sixth episodes of season 6.
Writing 605 and 606 with @olivergoldstick. Both episodes have some wild stuff. We've basically lost our minds:)

— Maya Goldsmith (@Maya_Goldsmith) April 3, 2015
Meanwhile Holly Marie Combs, who plays Aria's mother in the series, dropped a major clue on Twitter, suggesting that Ezra could be the troublemaker in Rosewood.
Does anybody know Ezra's middle name? Just wondering. #PLL #BigAReveal — Holly Marie Combs (@H_Combs) March 25, 2015
Combs's tweet sparked rumours that Ezra's middle name could be Charles and he could be the real villain of Rosewood who takes pleasure in inflicting pain on the pretty liars.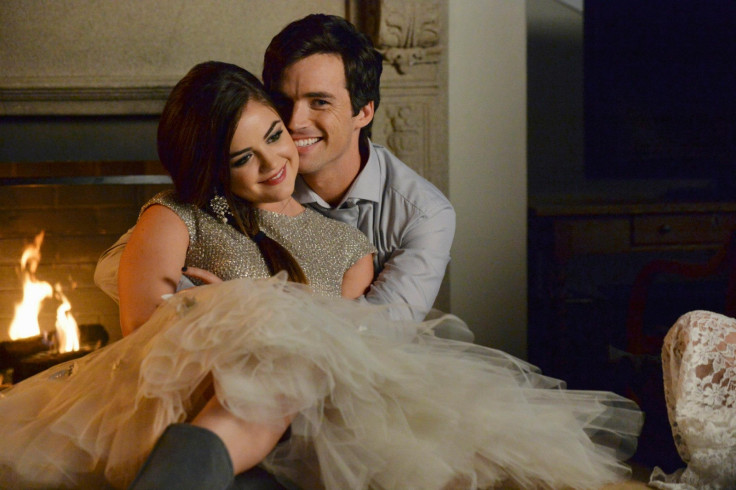 The next season of the popular teen thriller by ABC Family will feature a time jump, but the premiere episode will begin from where the season 5 finale ended – the life size doll house where the liars Aria, Hannah, Emily and Spencer and Mona remain trapped by Charles.
Another theory about Charles says that he may not be a member of the DiLaurentis family and neither he is the disturbed twin of Jason. Rather, he was adopted by the family and is a transgender!
Will any of these rumours turn out to be true? Fans will have to wait and watch Pretty Little Liars season 6 which will premiere in the summer on ABC Family.