Prince Charles and Camilla Parker Bowles have released an European-themed Christmas card for 2016.
The royal couple, also known as the Prince of Wales and Duchess of Cornwall, are pictured posing with a troupe of Croatian dancers in the seasonal greetings.
The photograph was taken with members of the HKUD Osijek 1862 dance group during the pair's royal tour of Croatia in March.
The duo are seen smiling dressed in warm coats - Prince Charles with hands casually in his pocket - as Camilla, sporting a fur hat, clutches her handbag.
Prior to the shot being taken, the dancers, contrastingly dressed in traditional costumes, had entertained the royals with a routine at the Cultural Heritage Festival in Osijek, Croatia.
The image, by Getty photographer Chris Jackson, also appears on the inside of the card next to the message: "Wishing you a very Happy Christmas and New Year."
The front of the card is minimalist in design, featuring the assigned monarchic emblems of Prince Charles' feathers and the Duchess' cipher.
The card is to be sent to all those closely associated with the royals. Its message of unity is timely as Prince Andrew, father of Princesses Beatrice and Eugene, recently took the unusual step of releasing a statement to dismiss suggestions of a rift between himself and Prince Charles over the future roles of his daughters.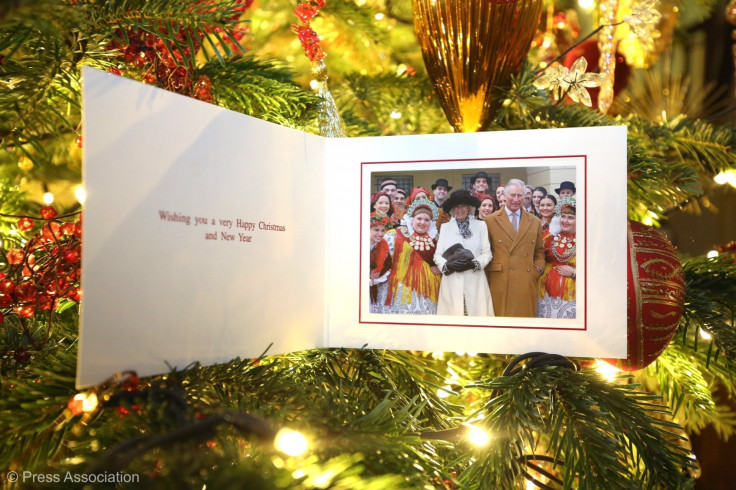 In the statement, posted on Twitter on Friday 9 December, the sixth-in-line to the throne said: "It is a complete fabrication to suggest I have asked for any future husbands of the Princesses to have titles.
"There is no truth to the story that there could be a split between the Prince of Wales and I over my daughters' participation as Members of the Royal family and any continued speculation is pointless."
Speaking "as a father", he expressed the hope that his daughters, both patrons of the Teenage Cancer Trust, could be seen as "modern working young women who happen to be members of the Royal family".