He might well be the future king of England, but 17-month-old Prince George was as excitable as any toddler meeting Father Christmas for the first time.
George was treated to a festive family outing to visit Santa's Magical Journey at Thursford, a winter wonderland close to the family's new country home in Norfolk.
The Duke and Duchess of Cambridge left onlookers awe-struck as they joined the queue of parents with their children, patiently waiting in line to tour the popular attraction.
The royal party, who had booked their tickets (£15 for children and £9.50 for adults) in advance, were accompanied by bodyguards as they wandered through the Christmas forest.
Animated reindeer, penguins, polar bears and elves lined the path to Santa's grotto which was adorned with fake snow and twinkling lights.
During the hour long visit Prince George was able to see 'real life elves' working in Santa's workshop to get everyone's toys ready on time for Christmas day, while giant teddy bears loaded the presents into his sleigh.
And then the Prince met Santa as he excitedly wandered into Father Christmas's house.
William and Kate looked on as George chatted to Father Christmas who presented him with a gift-wrapped wooden train.
Describing the royal visit General manager, Geraldine Rye, said: "George seemed to have a lovely time. When I saw him, he was walking around. It was a private visit and they were not given any special treatment. We only knew shortly beforehand that they were coming.
"They went around the winding path in our exhibition centre and would have seen animated animals like polar bears, penguins and reindeers as well. It is a fantasy land and the animated elves tell stories which you can listen to as you go round. It is all very traditional and is designed for families with young children," she explained.
It was revealed that the royals were not afforded special treatment and other visitors didn't intrude on their family time.
"They would also have seen Santa's workshop before going to Father Christmas's house. There were lots of different things for them to see and they were treated just like everyone else.
"The visit including going into Santa's house usually takes at least 45 minutes, but they seemed to be here a long time. They didn't miss anything and they had a good time. Lots of people recognised them, but they didn't get any hassle and nobody tried to take any pictures of them."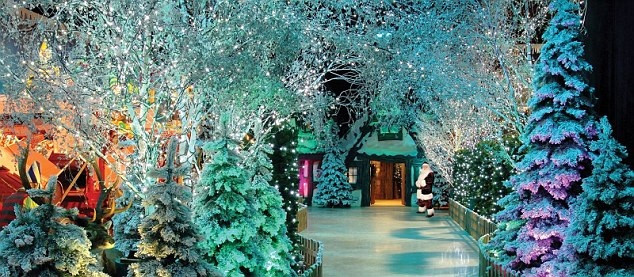 Miss Rye would not however reveal what Santa said to the Prince. "Father Christmas speaks to the children who stand in front of him with their parents. The only other person in the room is an elf who sorts out the presents.
"What he says to them and their parents is private. Only Father Christmas and his elf know what has been said. The children are given different gifts according to their age and George would have got a wooden train just like other boys who are his age."
William, Kate and George arrived in Norfolk on Thursday (18 December) for a 'perfect family Christmas'.
William and Kate are hosting the festive celebration for Kate's family Michael, Carole, James and Pippa Middleton.
"'The Duchess has long been keen to host big family Christmas in her new home, the kind of Christmas she enjoyed as a girl, and most of the Middletons duly arrived on Thursday afternoon," a source revealed.
"It's not clear yet whether the Duchess's family have been invited to join the Queen, but it wouldn't surprise me at all to see them walking to Church on Christmas Day and even join everyone for lunch before returning to Anmer in the evening.
"It will be quite a turn up for books if they do, but the Queen doesn't do anything by the book when it comes to William's new family."
The Duke and Duchess are expected to join the Queen for the traditional church service on Christmas morning.
New pictures of Prince George were recently released before Christmas.