It seems it was only yesterday that the Duke and Duchess of Cambridge welcomed their first child into the world, and now Prince George is celebrating his very first birthday.
Born on 22 July, Prince George is on the cusp of the end of Cancer and the beginning of Leo, meaning he has both signs in his star chart.
He will likely have the personality traits associated with both signs, just like his father Prince William, who was born on the cusp of Gemini and Cancer (21 June 1982).
People born under the sign of Cancer tend to be sensitive souls who are prone to getting hurt easily. Their best qualities are being tenacious, loyal, intuitive, sensitive and sympathetic, but they can also be temperamental, hold grudges, insecure and pessimistic.
People born under the sign of Leo, however, tend to be energetic, kind, optimistic, straightforward and loyal, although they can also be possessive, egotistical, headstrong, impatient and domineering.
Predictions for the remainder of 2014
Because Prince George is born in a cusp, his life on Earth is meant to symbolise a significant change in consciousness, entering a whole new way of living in 2014.
This summer, the royal baby is likely to be invited to a multitude of parties, soirees, picnics and celebrations.
The end of July is also a great time to fall in love, so maybe a charming little girl, like Kim Kardashian and Kanye West's daughter North, will visit from across the pond and sparks will fly.
In mid-August, Prince George is likely to receive a luxurious gift from someone – perhaps an electric baby car - and he will be given a good tip for making money on 25 September, but he is advised to be careful with his money as financial opportunities will dry up completely in December.
Interestingly, any issues relating to a property or binding domestic situation (perhaps to do with mummy Kate's three-kitchen dilemma) will calm down.
2015 predictions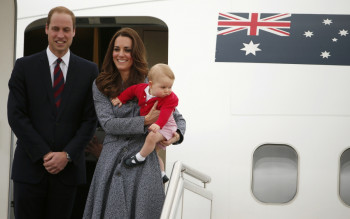 For those born under the sign of Cancer, 2015 will be a particularly personal year where the focus will be on intimate relationships, which will likely come to the fore as Prince George begins nursery.
Relations with friends and family will be excellent, but Prince George must remember not to over-work himself, whether it's playing Peek-a-boo, or building an imposing tower out of wooden blocks.
As Prince George is also born under the sign of Leo, he is advised to focus on himself in 2015, which won't be difficult, but he also needs to be prepared for big changes in his life, which could include preparing for a new family member – this is in line with rumours that the Duchess of Cambridge is in fact pregnant again.
Leos will also be travelling a lot in 2015, so Prince George could be taken on even more royal trips abroad with his parents next year.
Prince George's Chinese horoscope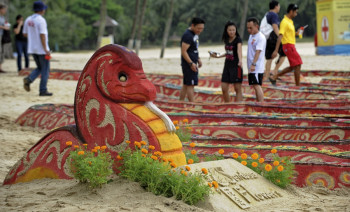 As Prince George was born in 2013, he is considered to be a water snake, following the Chinese zodiac.
However, looking at the day and time of his birth, he also has a lot of earth elements in his star sign, so will likely have a strong personality that will lean towards being cautious, conservative and tolerant, though rather stubborn.
Snakes are usually individuals who are good tempered and skilled in communication, although they often choose to say little.
They are usually financially secure and do not have to worry about money, and usually have a great sympathy for others, choosing to help others whenever they can. Their weaknesses include being jealous and paranoid, as well as fickle in relationships.
In 2014, the intelligence star will shine on Prince George and he will find it easy to learn new things. The Duke and Duchess of Cambridge are advised to be vigilant for signs of illness this year, but as long as Prince George sleeps enough and eats properly, he will recover quite quickly.
2014 is the year of the Wooden Horse, and the "fire element" is a key issue this year. Therefore Prince George could face problems with his cardiovascular system.