Meghan Markle's Suits co-star Patrick J Adams – who plays her on-screen lover Mike Ross – opened up about the actress' romance with Prince Harry. While the 35-year-old actor dished about his colleague's private life, he also started a new conversation teasing a special cameo for the royal on their USA network show.
"I'll work on it," Adams jokingly said about introducing Harry in the hit legal drama series. "I'll put in the hours. I'm sure it's super easy and uncomplicated."
However, the 35-year-old TV star admitted that he is yet to meet the British royal on-set. "The set is like a workplace. Who would want to come to a workplace?" Markle's co-star quipped. "Everyone thinks that TV sets are cool, but they're not that cool."
While it might be a little far-fetched for Suits fans to anticipate a legal role for the royal, Harry seems to be filling in the shoes of a boyfriend perfectly.
Referring to the royal romance, Adams told Entertainment Tonight: "Meghan and I have been such good friends for years now and to see her so happy is great. She's super excited."
Although the Canadian TV star confessed to keeping their lives off the Suits set private, he seemed pretty thrilled for his co-star, who has been trotting around the globe with her beau. Most recently the couple attended Pippa Middleton's wedding reception.
"I'm super happy for her and she's been such a pro in this season and it's going so well," the Suits actor said of Markle. "I'm very, very happy for her".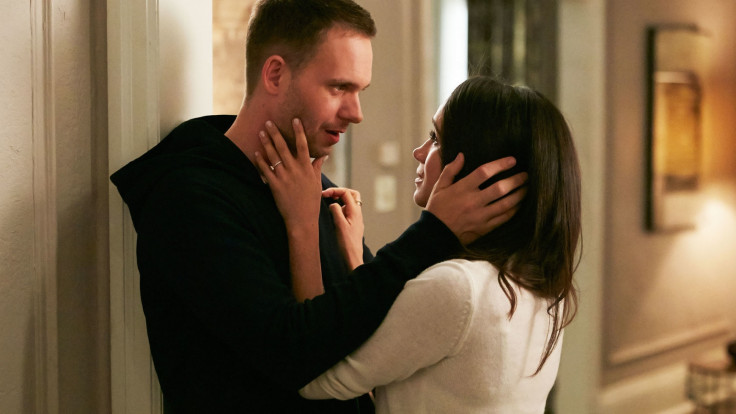 After the wedding extravaganza, Markle is back to work as she reunited with her TV co-star at the 2017 ATX Television Festival in Austin, Texas, on Saturday (10 June). The actress even participated in a script-reading of the original pilot episode during the panel. But, when asked about her personal life and future wedding plans, Markle played coy.
She smiled and didn't respond to the wedding question, according to a report.
However, the 35-year-old TV star was more than vocal when it came to her bond with fellow Suits actors, whom she described as her family.
"We were in a group email the other day and I was saying we'd all lived in the same corporate housing so on top of working together we were living together which makes a whole different dynamic, I think. We just became this whole family right out the gate," Markle said.
She even dished about her character – paralegal Rachel Zane – describing her as a "role model".
"She's worked so hard and I love that, as a role model, how she's been crafted to balance it all and now have this place at the firm where she really knows her standing and her office isn't just because she's a good researcher, it's because she's an associate. She's really earned that spot," the actress added.