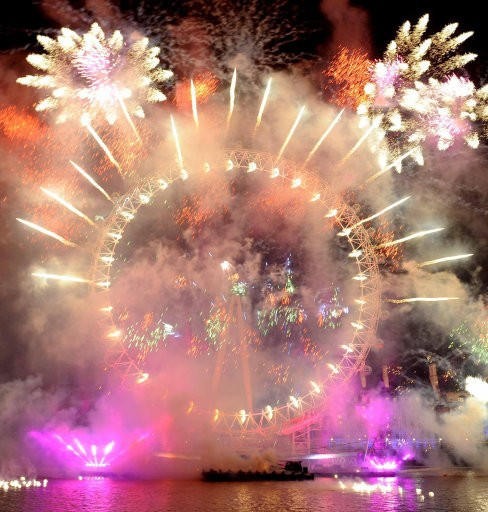 A Brazilian student who has previously organised two official parties for Prince Harry was rumoured to be selling London's New Year's Eve fireworks' tickets for 15 times their original price of £10.
Fellipe Trindade, 22, is selling the sold-out event tickets at £150 each.
An estimated 100,000 tickets have been sold to the public interested in viewing the New Year's Eve fireworks near the River Thames.
Trindade has allegedly claimed that he got hold off the limited tickets through his contacts at the British Embassy in Brazil.
He is also marketing the tickets as "special" permitting entry "as guest of the Mayor [Boris Johnson]."
In a telephone conversation, Trindade said, reported The Telegraph: "We are selling to make some money so I want to know how much you guys are willing to pay. The Mayor of London had a few tickets that he gave to some embassies.
"As we work for the British consulate we made some arrangements and they gave us tickets."
When confronted by The Telegraph, Trindade denied obtaining the tickets from the British embassy and said he was selling them on behalf of a friend.
"He won them in a radio competition. My friend had already bought tickets so he is selling the tickets he bought because he did not know he was going to win some others. They are still available if you know anyone who wants to buy tickets," Trindade told The Telegraph.
Meanwhile the London Mayor, Boris Johnson, has denied distributing any special tickets to British embassies, confirmed the Mayor's spokesman.
Several opposition members of the London Assembly have criticised the ticketing saying, the event "should be accessible to all".
Fiona Twycross, a Labour member of the Assembly, has warned of, "an explosive atmosphere" on the New Year's eve in London saying:"Given the combination of alcohol and a general desire to have the best New Year's Eve possible, I personally think there could be public safety issues.
"I don't think people necessarily know from outside London that the event is ticketed, people are used to coming to London to the event from around the country and around the world."