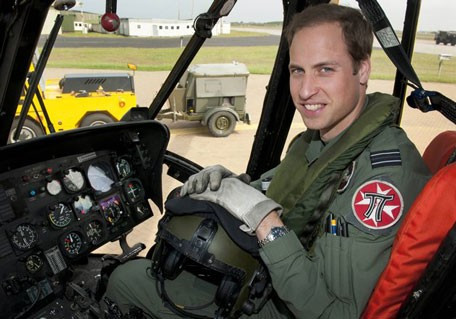 Prince William has led the life-saving RAF rescue of two teenage girls in Anglesey.
The 30-year-old royal, who is a qualified search-and-rescue pilot, helped to save a 16-year-old and her 13-year-old sister.
Rescuers say that a team was called out after the elder sibling risked her life to try and save her sister, who had been swept away on a riptide while bodyboarding off the coast of Wales.
Master Aircrew Harry Harrison, who served as winchman during the rescue, told the Daily Mirror that the 16-year-old had been in danger of drowning as she had become exhausted from trying to remain afloat off Cymyran Beach, Rhosneigr.
He said: "When I got to her, the elder girl was clearly exhausted and was going under the water for what was the very last time.
"We never know what we'll face when we're called out.
"Sometimes it's just a twisted ankle or a broken bone, but this was one rescue where we truly did arrive in the nick of time and managed to save two young lives."
The RAF described the rescue as one of its "fastest and shortest" operations, with the helicopter, captained by the Duke of Cambridge, taking just 38 seconds to arrive from its base at RAF Valley.
Co-pilot Flight Lieutenant Smith said: "This was a remarkably swift rescue, taking around 38 seconds from take-off until we arrived on scene."
The sisters were both taken to Ysbysty Gwynedd hospital in Bangor after the incident.