Prince William comes to the rescue in first air ambulance mission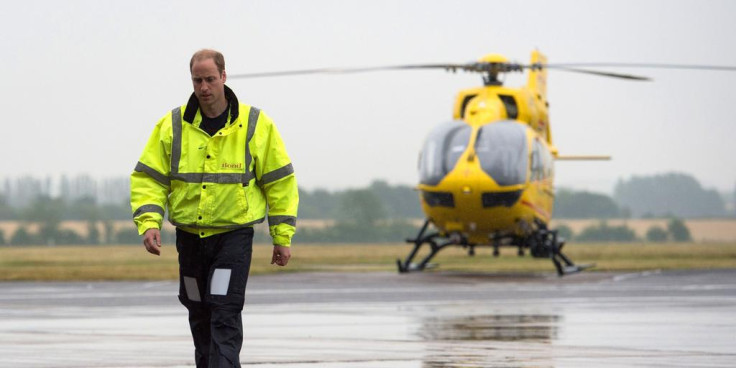 Prince William carried out a successful air ambulance mission on his first day in his new job.
The 33-year-old, who is a pilot for the East of England Air Ambulance, set off on his first rescue mission, transporting medics to a location in Felixstowe, Suffolk, to assist a man who had suffered a heart attack.
The man, in his 50s, had collapsed with chest pains and needed urgent medical treatment.
While the Duke of Cambridge was focused on carrying out his duty, his arrival didn't go unnoticed by onlookers at the scene.
Nina Allen, a 23-year-old care assistant, who had been taking photos of the picturesque locale when the drama unfolded spotted the air ambulance as it arrived.
She told The Telegraph: "I saw the air ambulance come down and thought I would have a look to see what was happening. When I initially went over, I did not think about Prince William being there.
"People then realised it was the prince and started to get really excited. I zoomed in with my camera and got some nice pictures of him. He did not look our way, but he is doing his job and can't be spending all his time waving at onlookers."
In one of her images Miss Allen, who lives in Felixstowe, even captured the prince checking his phone for messages.
She added: "I was never a big royalist when I was growing up but I have always thought highly of Will and Kate. They are a proper family - they work and they have their family life and I think they're good people. It's quite a story to tell my friends
A spokeswoman for The East of England Ambulance Service Trust confirmed they had been called to the incident at 10.52 yesterday.
She said: "An ambulance, East Anglian Air Ambulance and a rapid response vehicle, which arrived to scene in four minutes, attended and treated a man in his late 50s who had collapsed with chest pains."
The patient was treated at the scene and then flown 50 miles to the Norfolk and Norwich University Hospital.
Prince William, who will cover Norfolk, Suffolk, Cambridgeshire and Bedfordshire in his new role, had earlier revealed he was nervous about his first day at his new job. And while the Prince had a successful first mission, the patient he rescued will have a great story to tell of the day the future king of England came to his rescue.
© Copyright IBTimes 2023. All rights reserved.