Prince William, Kate Middleton Stir Doubts As They Mark Black History Month 'Too Late'
The Prince and Princess of Wales attended a couple of events in Wales to mark the U.K.'s Black History Month celebration in October.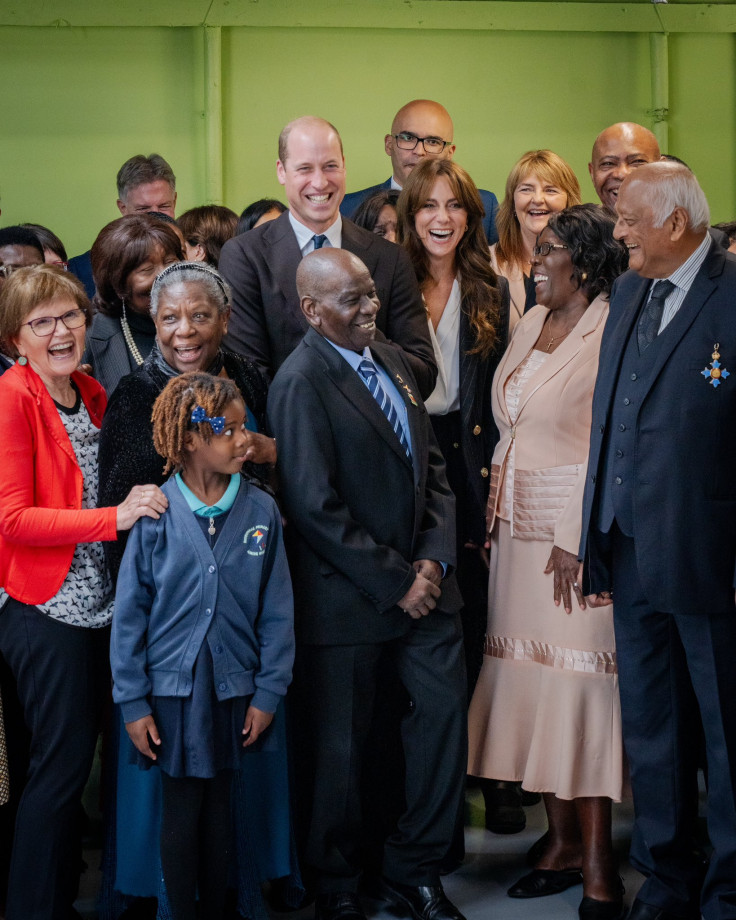 Prince William and Kate Middleton's presence at an event in Wales to mark Black History Month was met with raised eyebrows. One royal commentator questioned the motive behind the visit two years after Meghan Markle exited the royal fold.
Kensington Palace in a statement announced that the Prince and Princess of Wales on Tuesday joined the 75th anniversary celebration of the arrival of the HMT Empire Windrush to the U.K. They marked the start of Black History Month with a "visit to Cardiff to meet members of the Windrush generation and celebrate the work of diverse communities in the area".
While in the city, the couple also visited a local school to learn about the extensive range of opportunities offered to students in the curriculum and the work being done around the Windrush generation.
Royal author Omid Scobie posted the press release on X writing: "Prince William and Princess Kate will mark the start of Britain's #BlackHistoryMonth with a visit to Wales, where they will carry out two engagements focusing on how young people of colour are creating positive change in the country."
Photos of the visits have since been shared on the couple's social media pages, which showed them engaging with students during a visit to Fitzalan High School in Wales. They were also pictured sharing hugs with members of the Race Council Cymru, a strategic body established in Wales to bring together key organisations that help promote race equality.
Prince William and Kate Middleton have become the first future monarch couple to attend a Black History Month event since it was launched in 1987. Prince Edward and Sophie, Duchess of Edinburgh, were recorded in the Court Circular to have attended a same event in 2020.
Despite the warm welcome they received and the positive outcome of the visit, royal commentator Afua Hagan, a prominent voice on diversity in Britain, still raised concerns given the racism claims lobbied against the royals in the past.
"It just seems to me, why now? And it's a bit too late," she told Newsweek.
She added: "Does it ring true for me? I'm not sure. Is it good that they're marking something? Yes, it is. I mean, the theme for Black History Month is celebrating our sisters. It's about uplifting black women."
However, she pointed at the fact that Meghan Markle was subjected to horrible racist threats in the U.K. and it had to take Prince Harry to leave his home country to protect his wife because he alleged his family were unwilling to help.
Hagan said: "But they had a black woman in their family, and they chose not to do that. With Meghan Markle, they never marked Black History Month while she was part of that family. I think that's a real shame and a complete missed opportunity."
She again wondered about the timing and asked: "But why now? Why haven't you ever marked it before? Is it because at the end of last year, the royal family was engulfed in a race storm where you had someone who was visiting the palace ask repeatedly, 'Where are you from?' Is this them trying to prove that they're not a racist family by now all of a sudden embracing Black History Month?"
In their Oprah interview in March 2021, Meghan Markle and Prince Harry shared that a senior royal raised concerns about how dark their son Prince Archie's skin would be even before he was born. To this day they have never identified the individual although the duke assured it was not Prince Philip nor Queen Elizabeth II. In an interview for his memoir "Spare" in January, he said the royal showed unconscious bias instead of racism.
Prince William was forced to publicly reply that the royal family are "very much not racist" when asked by a photographer in the aftermath of the interview. Despite the missed opportunity, Hagan acknowledged that "it's good" of Prince William and Kate Middleton to celebrate Black History Month "because they have an appeal to a wider population, a younger generation as well".
© Copyright IBTimes 2023. All rights reserved.