Paris attacks: HBO's John Oliver applauded by Parisians for passionate support on Last Week Tonight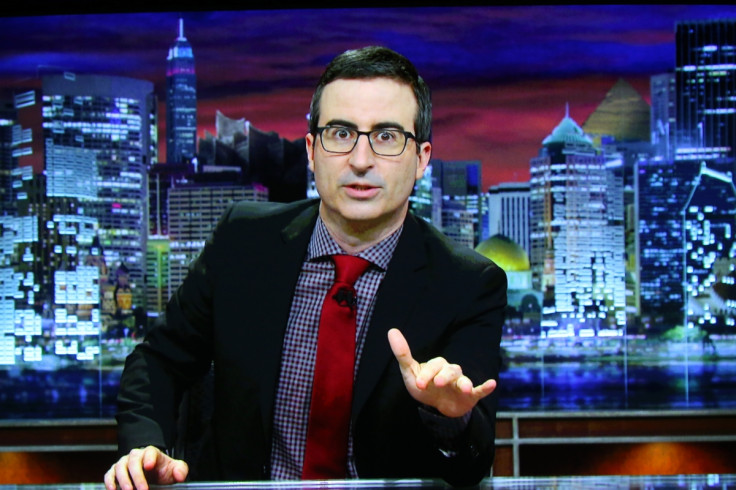 HBO talk show host John Oliver issued a passionate monologue of support for the Parisian people in the aftermath of the 13 November attacks that left over 129 dead and 352 injured. The British comedian's expletive-laden comments were applauded by residents of the City of Lights.
"First, as of now, we know that this attack was carried out by gigantic f***ing a**holes. Unconscionable, flaming a**holes. Possibly, possibly working with other f***ing a**holes—definitely in service of an ideology of pure a**holery," Oliver opened his show on 15 November. "Second, and this goes almost without saying: f**k these a**holes. F**k them, if I may say, sideways."
Oliver said: "And third, it is important to remember, nothing about what these a**holes are trying to do is going to work. France is going to endure. And I'll tell you why: If you're in a war of culture and lifestyle with France, good f***ing luck."
"Go ahead, bring your bankrupt ideology," he added. "They'll bring Jean-Paul Sartre, Edith Piaf, fine wine, Gauloises cigarrettes, Camus, Camembert, madeleines, macaroons, and the f***ing croquembouche. You just brought a philosophy of rigorous self-abnegation to a pastry fight, my friend. You are f***ed. That is a French freedom tower."
According to the Daily Mail, Parisians said the remarks had "made their day" following the horrific and chaotic 72 hours following the coordinated terrorists attacks led by Islamic State (IS) jihadists. Oliver's rant has gone viral on Facebook in France after it was shared by Les InRocks magazine, which lost one of its music journalists during the brutal shooting at the Bataclan.
Romain Piji, a Parisian living and working in London, told the Daily Mail that the two minute clip brought a smile to his face. "Worst Monday blues today, this video cheered us a bit in the office ... humour can sometimes be the best medicine." Oliver ended the opening monologue with a direct message to the French people: "So to the people of France, our thoughts are truly with you and I do not doubt there will be more to say on all of this as events unspool."
The Daily Mail noted that this is not the first instance Oliver has taken aim against the terrorist organisation. In October, Oliver called out automaker Toyota for becoming the preferred mode of transportation for IS. "Toyota is famous for making dependable vehicles, but this week, we learned something surprising about who exactly has been depending on them," he said. "At this rate, we are almost a few months away from Isis-owned dealerships, complete with fully-armed windsock guy. Come on down to Isis Toyota — our salesmen are terrorists you can negotiate with!"
© Copyright IBTimes 2023. All rights reserved.