Prince William's New York Visit Great Contrast To Prince Harry's 'Near Catastrophic' Car Chase
The Prince of Wales had a crowd of people lining up Liberty Street for a chance to greet him in person.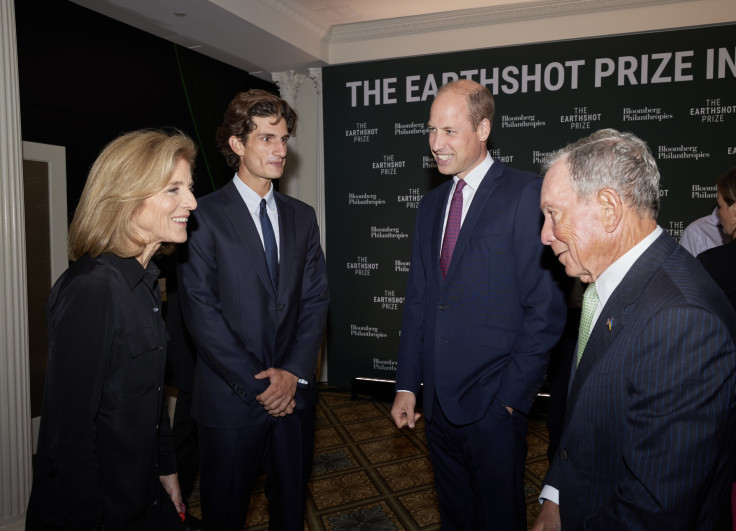 Prince William was greeted by crowds of fans during his two-day visit to the city on September 18. But Prince Harry and Meghan Markle did not get a similar reception during a visit in May when they were chased by paparazzi.
Videos posted on social media showed a large crowd lining Liberty Street to welcome the Prince of Wales to the Big Apple. The royal had a mini walkabout as he chatted and shook hands with them.
On the contrary, the Duke and Duchess of Sussex, along with her mother Doria Ragland, had a less than pleasant experience when they arrived for the Ms. Foundation's Women of Vision Awards held at the Ziegfeld Ballroom on May 16. They entered the venue through an office of car rental company Hertz, and were also ushered out the same way after the ceremony.
They were then involved in a "near catastrophic car chase at the hands of a ring of highly aggressive paparazzi" who tailed them from the venue. A representative for the couple said at the time that the "relentless pursuit, lasting over two hours, resulted in multiple near collisions involving other drivers on the road, pedestrians and two NYPD officers". The trio ended up taking a yellow cab in an attempt to lose the photographers as they did not want to lead them back to a friend's house where they were staying while in New York.
Prince Harry, Meghan Markle and Ragland were ushered in and out of Hertz in haste as there were people trying to get close to them. Whereas, Prince William calmly strolled Liberty Street as he paid a visit to The Ten House fire station and stepped out to greet the crowd gathered outside. The police had closed off the street for his appearance.
The stark difference in the two brothers' visit is possibly because of their status. The Prince of Wales is a working royal family member and future king of Britain. His was considered an official U.S. visit by a representative of Britain so he is afforded all the security measures to ensure his safety.
Whereas Prince Harry was stripped of his royal security protection when he and Meghan Markle stepped down from their royal duties in January 2020.
Prince William was in the Big Apple to promote his prestigious environmental programme, the Earthshot Prize. He attended the second Earthshot Prize Innovation Summit at the Plaza Hotel on Tuesday, September 19, where he revealed the 15 finalists for this year's Earthshot Prize Awards. Only five will be awarded at the ceremony which will take place in Singapore in November.
© Copyright IBTimes 2023. All rights reserved.