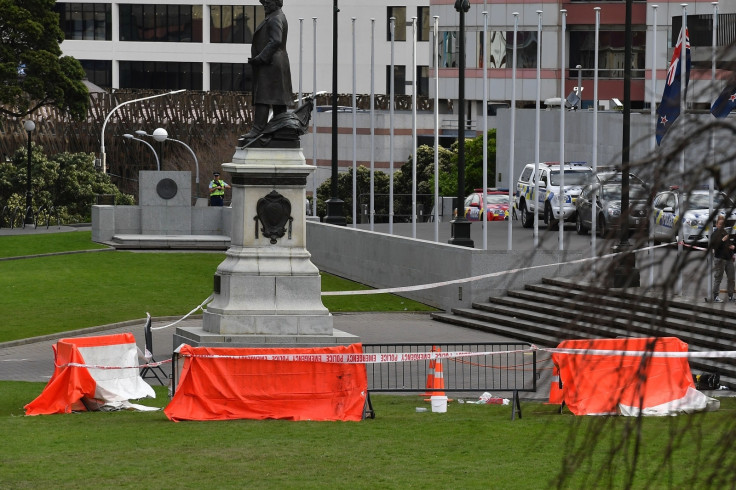 A lone protester set himself on fire outside New Zealand's parliament on Thursday 21 September, just two days before the country's general election. Emergency services and police rushed to the scene in Wellington at 3:50pm (4:50am BST) after it was reported that a man had set himself alight.
Witnesses said they saw billowing smoke in front of the building and a protest sign lying inside the area cordoned off by police. The sign may have been referring to child custody and family law issues as it mentioned children being taken away from their mothers and the "murdering of fathers".
One unnamed man saw the incident from the nearby Backbencher hotel.
"Everyone was looking out the windows then people started rushing out of the Backbencher with buckets of water and stuff like that," he told local reporters.
"I hadn't actually seen what was happening but then when the smoke cleared there was a guy lying on the ground and he'd obviously been burned," he said.
Police did not identify the protester, who was taken to hospital where he is said to be in a critical condition.
Senior Sergeant Glen Turner said it was too early to confirm that the man was protesting. "At this stage it's too early to say exactly what he was doing," he said, describing the incident as "highly unusual and extremely unfortunate".
Newstalk ZB political editor Barry Soper said the man was a regular protester outside parliament and well-known to security.
Wellingtonian Matt Weldon-Smith said he had seen the man holding a placard in front of the Court of Appeal in the past week. "He hasn't been ranting or raving or anything - just silently holding a sign there," he said.
"I read the sign, it doesn't really make a lot of sense to be honest. Obviously he had some sort of problem with the Family Court situation there but I couldn't make head or tail of the sign."
He added that he had seen the man carrying a sign which read "in Iran they stone woman, in NZ they stone men" earlier in the week.