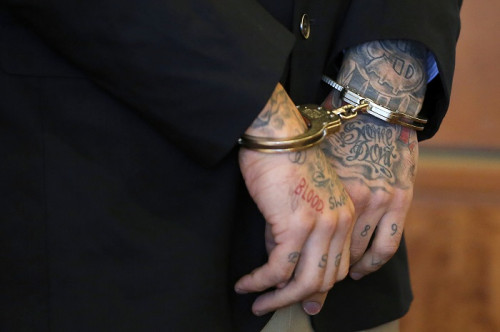 A father accused of killing his disabled seven-year-old son has been found not guilty by reason of insanity.
Jeremiah Wright, 32, will not face trial in Louisiana for capital murder after expert testimony found that he was delusional and psychotic at the time of the murder.
Witnesses Dr Sarah DeLand, an assistant professor of psychiatry and forensic neuropsychiatry at Tulane University, and forensic psychiatrist Dr George Seiden testified that even when taking psychiatric medicine, Wright believed that a robot or CPR dummy had replaced his son.
Wright killed Jori Lirette in 2011 at the home he shared with the boy's mother in Louisiana. Jori's head was found in the driveway of the home, while other body parts were found in nearby rubbish bags.
Jori had little speech and his disability required him to be fed through a tube. He required round-the-clock care.
According to a sworn police statement, Wright told investigators in 2011 that occurrences such as being urinated and defecated on by his son indicated to him that he was living with a CPR dummy.
District attorney Camille 'Cam' Morvant said: "It was the only ruling, really, that the court could make.
"There was indisputable testimony from experts that Mr Wright was psychotic and delusional, and suffered from a major mental disorder at the time of the crime."
Wright's lawyer Kerry Cuccia said state law allows such rulings only if prosecutors agree that mental illness prevents a defendant from understanding that they are doing something wrong when they commit a crime.
Judge John LeBlanc, of Thibodaux, told a court on Friday that Wright will be sent to a state mental hospital in Jackson often used to house criminals who have either been found guilty by reason of insanity or charged with a violent crime.