A tour guide wrestled with a 10.5 feet-long Burmese python in the waters of the Florida Everglades and eventually succeeded in killing the beast by asking his colleague to chop off its head in front of a boat full of tourists.
Tommy Owen was showing tourists the flora and fauna of the Florida Everglades when one of the tourists pointed out a snake to him. Owen cast the tourist boat 15 feet away from the python to ensure their safety, jumped into the water, caught the python underneath the water, wrestled with it for several minutes before asking his colleague to kill it.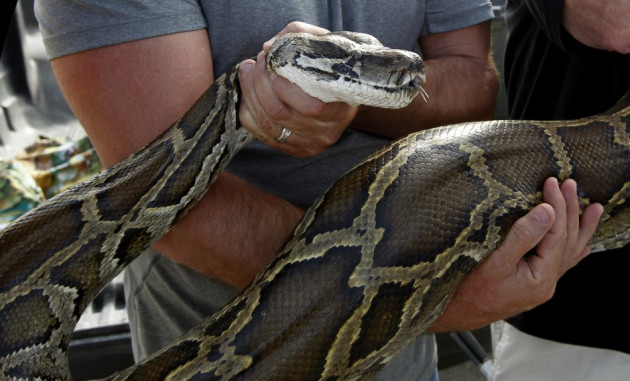 Burmese pythons are invasive species in the Everglade, meaning their presence is unwarranted for the general health of the ecosystem as these beasts damage the natural habitat. These pythons have been plaguing the ecosystem by putting raccoons, opossums, bobcats and other mammals into extinction. Owen said that these pythons, who have been dumped by irresponsible pet owners, didn't belong here and that was the reason for him fighting the beast.
Owen said he "ambushed" the python, but didn't realise that the snake was "three times" the size of his muscle, and physically much stronger than he was.
"As the python began to fight did I realize how much stronger he was than me," Owen told NBC2. "I didn't even realise it was over 6 feet, three times the size of my arm. I just launched on it essentially and after several moments of snake jujitsu with the beast, and asked my colleague to chop its head off."
"With a snake especially that big, you get one chance to grab it by its neck where it doesn't bite you. I had him eventually exposed the neck to Warren (his work colleague). I wanted the head away- that's the most dangerous part of the snake so I exposed the neck and was finally able to get it cut," he added.
Everglade Adventure Tours owner Jack Shealy praised Owen's efforts saying he had never seen anybody catch a python, leave alone jumping on it and successfully killing it.
The menace of these invasive species has bothered the Everglades authorities so much that they recently sponsored an amateur hunt. They were successful in killing only 68 of the estimated 150,000 pythons inhabiting the Everglades.
You can watch the video of the tour guide wrestling the Burmese python by clicking here.