AnTuTu, one of the most popular benchmarks used for testing smartphones and tablets, has just released the top 10 rankings for Central Processing Unit (CPUs) and Graphics Processing Unit (GPUs) and both the lists have been topped by the most talked about smartphone chips for 2016, the Qualcomm Snapdragon 820. The company clearly looks like the flagship smartphone chip leader as the list features five Snapdragon chip variants in total with 2015's Snapdragon 810 still ruling among the top five.
The Qualcomm Snapdragon 820 processor won the first place by scoring 136,383, which is nearly 4000 points higher than that of Apple A9, which came in second. The Qualcomm Snapdragon 820 is being used in many flagship devices this year including the Samsung Galaxy S7, S7 Edge, the LG G5 and the Xiaomi Mi5.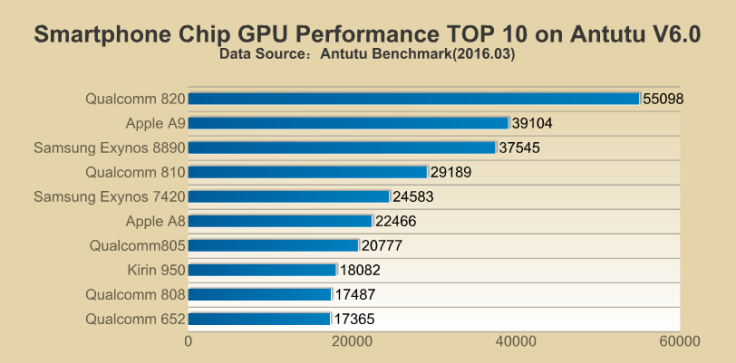 In terms of graphics performance, the top three performers on the GPU list are exactly the same and in exactly the same order as the CPU list, with the Snapdragon 820 (Adreno 530 GPU) at the top, the Apple A9 (PowerVR GT7600) in second place and Samsung's Exynos 8890 (Mali-T880 MP12) following a bit far behind at third position. The Kirin 950 (Mali-T880 MP4), which is used in phones like the Huawei Mate 8 drops to 8th place on the GPU list despite being 4th on the CPU list.
While the GPU is a special purpose processor, optimised for calculations commonly (and repeatedly) required for Computer Graphics, a CPU on the other hand is a general purpose processor that can in principle do any computation, but not necessarily in an optimal fashion for any given computation. One can do graphics processing on a CPU — but it likely will not produce the result anywhere nearly as fast as a properly programmed GPU.
AnTuTu has come to be one of the most widely followed benchmark app, used as an industry standard by leading technology companies and hardware review sites. It comprehensively tests all aspects of a device, including UX, GPU, RAM, CPU, I/O and individually and gives a relevant score.