Qualcomm's Quad-Core S4 with Adreno 320 Outshines Exynos 4412 in Benchmark
Qualcomm's Snapdragon S4 with Adreno 320 beats Exynos 4412 and Nvidia's Tegra 3
The Qualcomm quad-core processor with a powerful GPU shows up better performance on graphical level, according to Tweakers.Net. The benchmark has been published on the GL Benchmark site. Strong contenders in the benchmark test include Nividia's Tegra 3, Samsung's Exynos 4412, Snapdragon S4 and the Apple A5 chipset.
The benchmark reveals that the Snapdragon S4 with Adreno 320 GPU is more powerful when compared to others in the market. The benchmarks include GLBenchmark 2.1.2 Egypt offscreen, PRO offscreen and AnTuTu. The GLBenchmark 2.1 is an upgrade to the GLBenchmark 2.0.x series. It offers a more scalable test environment. It features off-screen measurements, warm-up style throughput tests and high quality rendering.
The Snapdragon is a family of mobile System on Chips (SoC) by Qualcomm. The S4 Snapdragon SoC named as Krait is the successor to Scorpion. The Snapdragon processors comprises a circuitry that will decode HD resolution at 720p or 1080p depending on the chipset. It is made up with a 28nm process and offers modems and other circuitry with lower power characteristics when compared with external chips made with older processes. The LG Eclipse E970 appears to come with a Snapdragon S4 with Adreno 320 GPU. "Thanks to results for the LG E970 (LS970 if you're looking at Sprint in the US) flagship phone, it's pretty obvious that the Snapdragon SoC will be at the bleeding edge of ARM-chip performance both in graphics and pure processing power," explains Trusted Reviews.
The Galaxy S3 is powered by the Exynos 4412 chipset which is made with a 32nm High-K Meta Gate (HKMG) design with improved performance and reduced power consumption. The Nvidia Tegra 3 reportedly offers unprecedented performance in the range of smartphones. It features Super 4-Plus-1 quad-core with 5<sup>th battery saver core. The HTC One X is powered by the 1.5GHz quad-core processor with Tegra 3 chipset.
The A5 SoC comes with a version of a chip which is based on dual-core ARM Cortex-A9 MPCore CPU with Neon SIMD accelerator and a dual-core PowerVR SGX543MP2. The A5 (S5L8940) is used in the iPhone 4S, iPad 2 as well and is made with 45nm.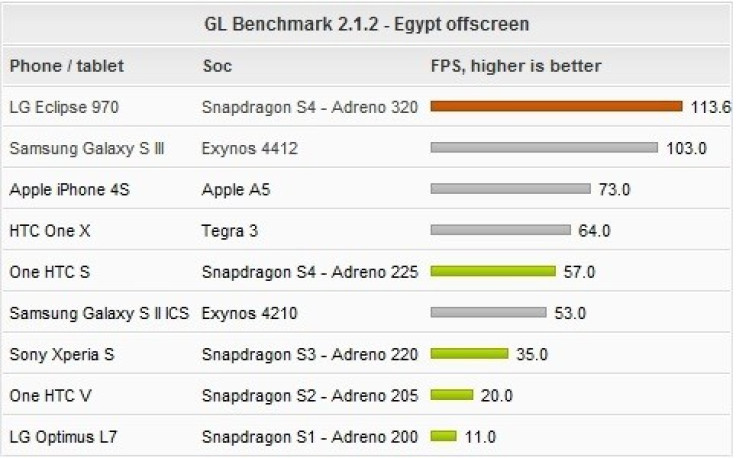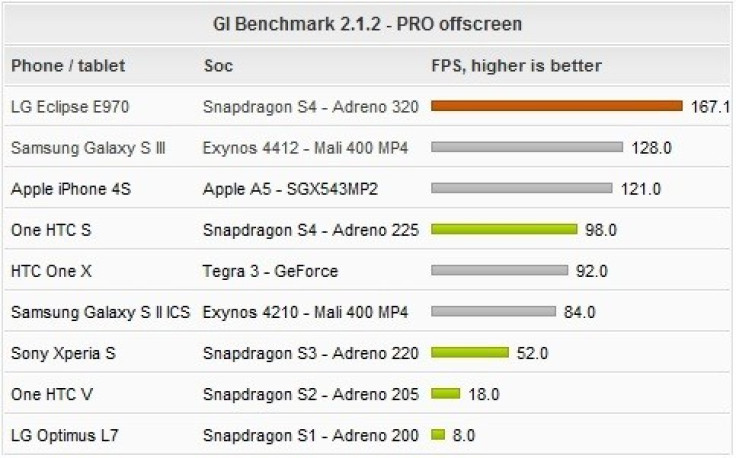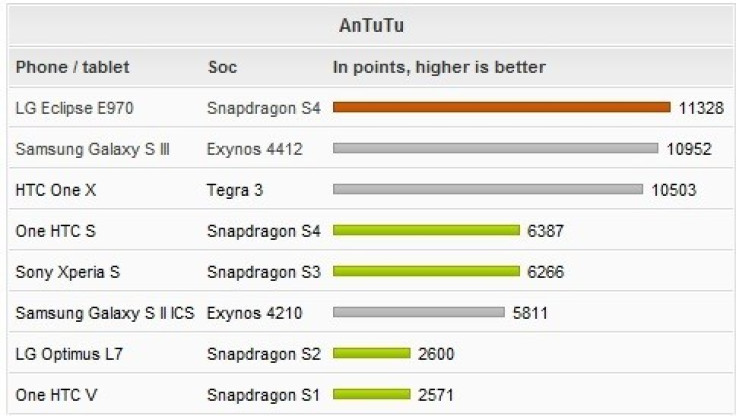 © Copyright IBTimes 2023. All rights reserved.