Queen Elizabeth II may have already celebrated two birthdays but the festivities continue at Buckingham Palace. From 23 July, the royal's coronation and wedding dresses are to go on display to mark her 90<sup>th year.
The exhibition entitled Fashioning A Reign: 90 Years Of Style From The Queen's Wardrobe is a sartorial look back at the Queen's life that will showcase her wardrobe used for royal tours to weddings as well as state occasions and parties down the years.
Having always staunchly supported British designers, the Queen remained loyal to those who shaped her style through the decades. Those who feature prominently include the likes of Sir Norman Hartnell, Sir Edwin Hardy Amies and Ian Thomas.
Speaking to Vogue, the curator Caroline de Guitaut said: "The Queen transcends fashion but her clothes continue to reflect it.
"She is completely involved in her wardrobe and works with leading British couturiers of the day but will reject designer's sketches if she doesn't like them. Consistently elegant, she dresses in bright, visible block colours, often with a complementary hat but note that we rarely see her in pattern."
Sir Norman Hartnell's contribution to the Queen's wardrobe was perhaps the most prominent having worked with the royal family since 1938 and was commissioned to design and make both the Queen's wedding and coronation gowns.
When tasked with creating the dress for Elizabeth's marriage to The Duke of Edinburgh in 1947, Britain was still in the height of rationing and the soon to be Queen had to save her ration stamps to buy the fabric. Despite this set back, Hartnell designed an exquisite masterpiece for the Queen inspired by Botticelli's Primavera, complete with 15ft train emblazoned with appliqué stars that was woven in Braintree in Essex. The designer himself regarded the dress as the "the most beautiful dress" he had made to date.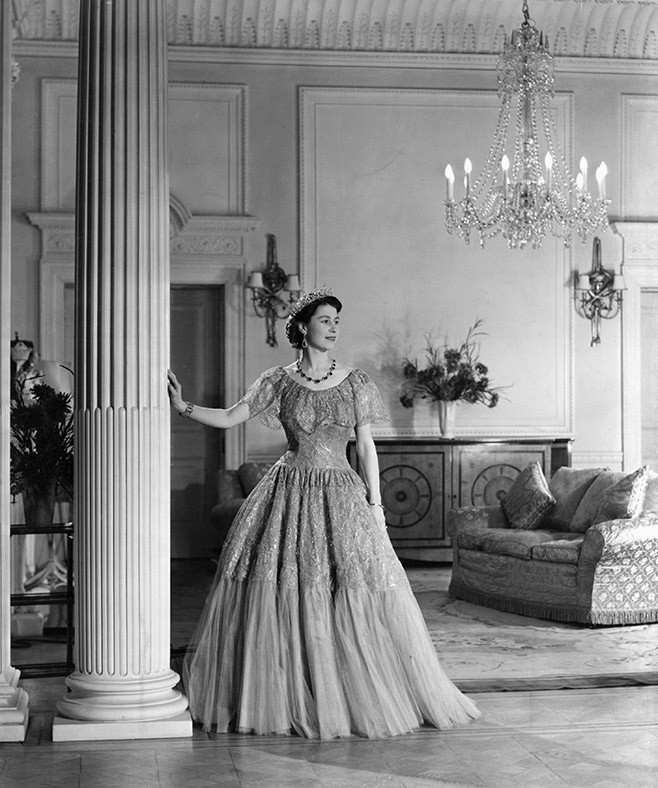 For the coronation at Westminster Abbey on 2 June 1953, Hartnell exceeded expectations further presenting an opulent silk gown that was hand embroidered with 10,000 seed pearls and thousands of crystal beads that were arranged meticulously to resemble Commonwealth emblems. It is no surprise that Chanel and Dior both regarded him as an inspiration.
Alongside the Queen's most famous outfits, the Buckingham Palace exhibition will include a number of evening gowns worn by Her Majesty throughout her early years on the throne.
The exhibition runs between 23 July and 2 October as part of the summer opening of the state rooms at Buckingham Palace.
"Fashioning A Reign: 90 Years of Style From The Queen's Wardrobe also features at the Palace of Holyroodhouse (21 April-16 October 2016) which will focus on the role of tartan in the Royal wardrobe, and Windsor Castle (from 17 September 2016-8 January 2017), which looks at the contrast between official royal gowns and the fancy dress costumes of Princess Elizabeth.
For more information, go to: royalcollection.org.uk