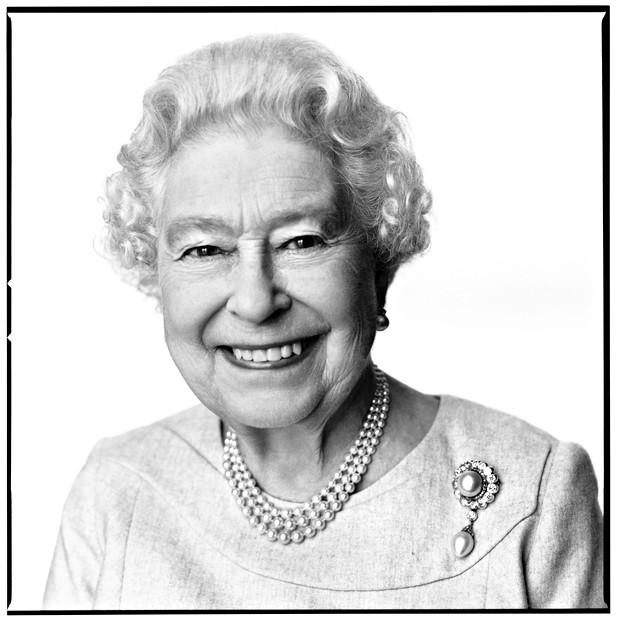 Photographer David Bailey has taken a new picture of Queen Elizabeth II to celebrate her 88th birthday on Monday 21 April.
The black-and-white photo shows the Queen smiling broadly, wearing a twin-set of pearls and a dress by Angela Kelly.
Bailey has added a modern twist to the photograph by adding Instagram-style finishing touches. The image has a distinctive black border around the head and shoulders picture.
The 76-year-old photographer said: "I've always been a huge fan of the Queen. She has very kind eyes with a mischievous glint.
"I've always liked strong women and she is a very strong woman."
The sitting for the portrait took place at Buckingham Palace and was commissioned for the government's Great campaign. It aims at promoting tourism, trade, investment and education in the UK.
A Buckingham Palace source told the Guardian: "Bailey's name was suggested by No 10 and the Great campaign and the Queen agreed. The Queen agreed to sit for it in recognition of the work of the Great campaign."
UK Culture Secretary Sajid Javid told the BBC that the portrait would help to support the aims of the campaign, which he said was to "showcase everything that is great about the UK to an international audience".
According to Great campaign director Conrad Bird, the campaign has delivered economic returns worth more than £500m to the economy.
Photographer Bailey had never snapped the Queen before, but has taken photos of Diana, Princess of Wales, Kate Moss, Naomi Campbell and the Krays, the notorious London gangsters.
The Queen celebrates her birthday on 21 April, and her official birthday on a Saturday in June, this year falls 14 June.