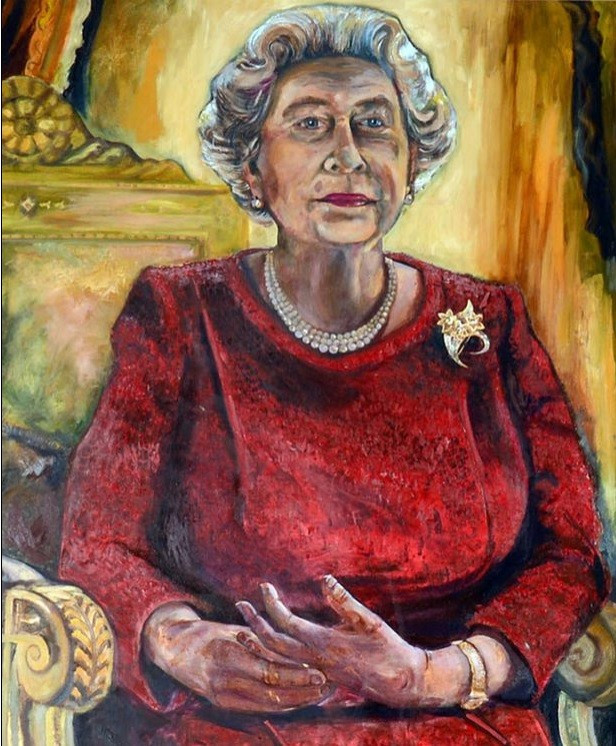 A new portrait of Queen Elizabeth unveiled at the Millennium Stadium has been branded a "hideous" rendering that makes the monarch look like a "Spitting Image puppet".
The painting by Welsh artist Dan Llewelyn Hall was commissioned by the Welsh Rugby Union to mark her 60 years on the throne.
In his portrayal, the Queen - a patron of the WRU - wears a cherry-red dress and pearls, and is captured playing with her hands as they rest on her lap.
Hall, 32, who is the 133rd artist to paint the queen, said he was keen to produce something "different" from his predecessors.
"It is awe inspiring to be in her presence and I wanted to relay that feeling as well as showing the human side to the Queen's personality," he said.
But some royal watchers have slammed the portrait - which measures 5ft by 4ft - as vile and said the monarch's head and body are out of proportion.
David Frazier, 38, told the Mirror: "I've never seen a royal portrait like that. It is a shocking portrayal, she looks like a caricature of her Spitting Image puppet."
Pal Martine Thomas, 32, added: "The Queen can't be happy with that. Never mind hanging the portrait - it is the artist who should be hung."
A spokesman for Buckingham Palace told IBTimes UK: "She never comments on any portraits of her, so we will never know what she thinks of them."
The widespread criticism echoes the scathing reactions witnessed when Paul Emsley unveiled his "ghost-like" portrait of the Duchess of Cambridge for the National Portrait Gallery in January.
Emsley's use of an eerie black background as well as deep lines on Kate's face were said to have aged the 31-year-old by ten years.
"The Duchess explained that she would like to be portrayed naturally - her natural self - as opposed to her official self," Emsley said.