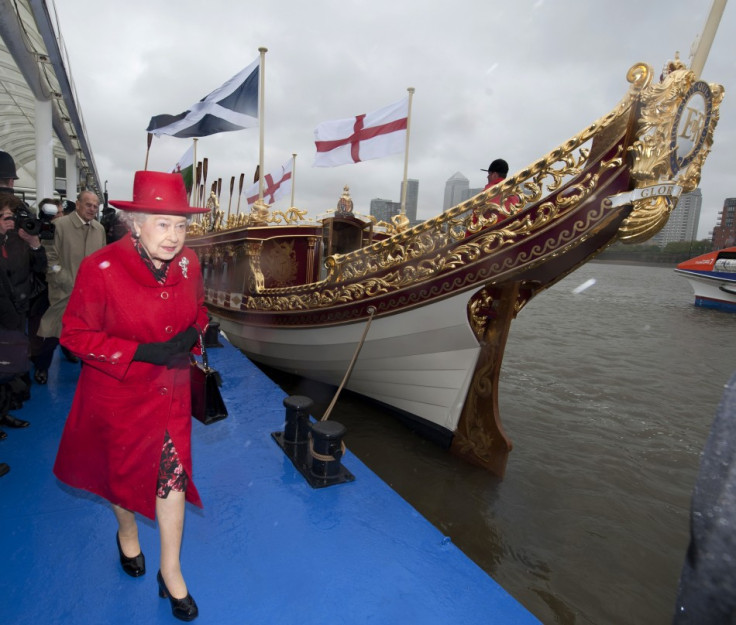 As the Diamond Jubilee fast approaches, the final preparations are being made for a historic pageant on the river Thames.
Footage was released showing the finishing touches to the throne that will seat the Queen as she travels with various members of the royal family down the river. The Queen's barge, Spirit of Chartwell, will form part of the flotilla of over 1,000 boats that will be on the Thames on 3rd June.
Boats of all shapes and sizes will form part of the waterborne extravaganza; and the flotilla itself will stretch over seven miles long as it travels from Battersea Park to Tower Bridge. It is predicted that over a million spectators will flock to the banks of the Thames to see the historic celebration.
One of the main attractions will be Gloriana, a man-powered barge created specifically for the pageant to the tune of £1m.
Sir Steve Redgrave and Sir Matthew Pinsent will be among the oarsmen powering Gloriana down the Thames as it leads the flotilla. Sir Steve said, "We all feel very honoured to be leading the Thames Diamond Jubilee Pageant and we are looking forward to being part of a magnificent spectacle."
Lord Salisbury, Chairman of the Thames Diamond Jubilee Foundation, spoke of his excitement ahead of the celebrations.
"The Pageant on 3rd June will be a unique occasion to celebrate a British Monarch. Our organising team, the hundreds who have entered their boats, the thousands on the river, the hundreds of thousands lining the banks and the many hundreds of millions watching on television, will want to pay a fitting tribute to The Queen for her 60 years of service. The Pageant will be an event that will fulfil this ambition."
Other attractions will include the Philharmonic Orchestra, who will play pieces to match the buildings it passes en route, such as the James Bond theme whilst passing the MI6 building, and the theme from The Dambusters alongside the RAF memorial.
The Diamond Jubilee marks 60 years of Queen Elizabeth II's reign and the flotilla will be the largest seen on the Thames in 350 years, when a river pageant was held for King Charles II and Queen Braganza as they travelled to Whitehall from Hampton Court.