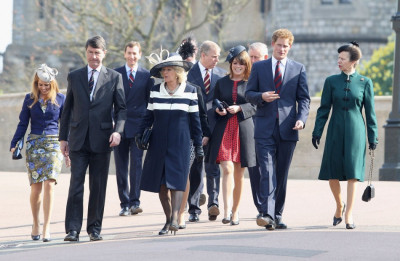 The British royal family including the Prince of Wales, the Duchess of Cornwall and Prince Harry attended a thanksgiving service on 30 March, 2012 at the St George's Chapel in Windsor Castle.
However, Prince William and Kate Middleton were notably absent as they were on a skiing holiday with Méribel, Michael and Carole Middleton. Apart from them, almost every senior member of the royal family was present at the service dressed in their best.
Held as a tribute to both the Queen Mother and her daughter, Princess Margaret, both of whom died 10 years ago, the service recalled the remarkable lives of both the royal women.
While Princess Margaret died in March 2002 after suffering a third stroke, the Queen Mother died peacefully in her sleep the next month at the age of 101.
Inside the St George's Chapel, where the remains of both the royal women are interred, the Dean of Windsor mentioned that both the Queen Mother and Margaret have "significantly enriched the lives" of those present and that each of them present at the service will "cherish some special personal memories, memories that awaken once again sentiments of affection and respect."
The Daily Mail reported that among the congregation at the private service were playwright Sir Tom Stoppard and actress Felicity Kendal and friends of Margaret who attended her memorial service in 2002. Also present was the Queen Mother's official biographer William Shawcross and horse trainer Nicky Henderson, a friend of the Queen and her mother.
Start the slideshow to catch a glimpse of the royal family at the Windsor tribute services: