Queen singer and former Pop Idol contestant Adam Lambert has suggested he would be interested in performing with Led Zeppelin, should the band ever reform without Robert Plant.
Lambert made the comments while discussing which other band he has dreamed of fronting aside from Queen, whom he as acted as vocalist for since 2011 — performing in place of the late lead singer Freddie Mercury .
Speaking to the NME, he said: "I've got the full fantasy so I don't know if I would even attempt to do another.
Lambert added: "I don't know, that's a big question, I mean I would love to sing some Led Zeppelin."
British rock icons Led Zeppelin have not performed since a one-off show at London's 02 Arena in December 2007.
Clamour for a full-scale reunion has remained strong, but Plant, 68, has persistently rejected the idea despite vast financial incentives.
His refusal has heightened tensions with guitarist Jimmy Page, who previously told The New York Times, "he's just playing games, and I'm fed up with it, to be honest with you. I don't sing, so I can't do much about it."
Addressing his appetite for a reunion, Page added: "I definitely want to play live. Because, you know, I've still got a twinkle in my eye. I can still play. So, yeah, I'll just get myself into musical shape, just concentrating on the guitar."
This may leave the door open for Lambert, who has sold 3 million albums and 5 million singles as a solo artist after rising to fame on US Pop Idol in 2009, and would only be able to fulfil his dream in place of Plant.
Queen to revive News Of The World?
The 35-year-old also discussed Queen's upcoming European tour in the NME interview, explaining it will pay homage to the 40th anniversary of the band's classic album, News Of The World.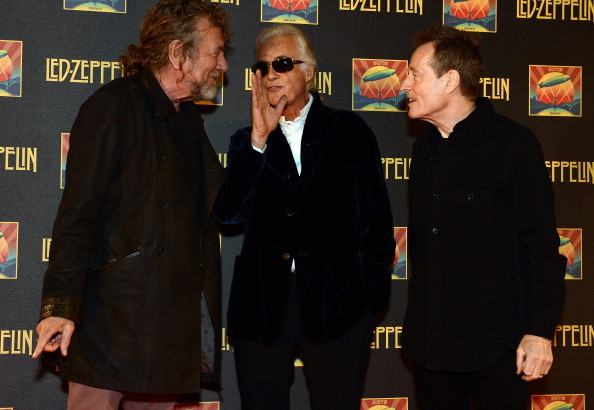 "Well I mean the particulars aren't quite all ironed out yet, we still have quite a lot creative conceptual conversations," Lambert told NME.
"The one thing that is moving forward is definitely the look of the stage. That's been reinvented, but it's all sort of evolving as we speak. We were emailing back and forth about how to reinvent the setlist and do it different ways from what we've gotten used to doing, and I think its just important."
Queen and Adam Lambert European tour dates
Nov 01: O2 Arena, Prague, Czech Republic
Nov 02: Olympiahalle, Munich, Germany
Nov 04: Sportarena, Budapest, Hungary
Nov 06: Atlas Arena, Lodz, Poland
Nov 08: Stadhalle, Vienna, Austria
Nov 10: Unipol Arena, Bologna, Italy
Nov 12: Amneville Galaxie, Luxembourg
Nov 13: Ziggo Dome, Amsterdam, Netherlands
Nov 17: Zalgiris Arena, Kaunas, Lithuania
Nov 19: Hartwall Arena, Helsinki, Finland
Nov 21: Friends Arena, Stockholm, Sweden
Nov 25: 3 Arena, Dublin, Ireland
Nov 26: SSE Arena, Belfast, UK
Nov 28: Echo Arena, Liverpool, UK
Nov 30: Barclaycard Arena, Birmingham, UK
Dec 01: Metro Radio Arena, Newcastle, UK
Dec 03: The SSE Hydro, Glasgow, UK
Dec 05: Motorpoint Arena, Nottingham, UK
Dec 06: First Direct Arena, Leeds, UK
Dec 08: Motorpoint Arena, Sheffield, UK
Dec 09: Arena, Manchester, UK
Dec 12: O2 Arena, London, UK
Dec 13: O2 Arena, London, UK
Dec 15: The SSE Arena, London, UK
Dec 16: Barclaycard Arena, Birmingham, UK