Whilst Queen Elizabeth II's day of birth is actually 21 April, Her Majesty officially celebrates her birthday on a Saturday in June of each year. This year it falls on 13 June.
The concept of official celebrations being held on a day other than an actual birthday is a traditional amongst the monarchy, particularly if the day they were born was not in the summer months.
Annually, to mark the beginning of the Queen's official birthday, a ceremony named Trooping The Colour is carried out by fully trained and operational troops from the Household division (Foot Guards and Household cavalry). It takes place in Whitehall and is typically watched by Royal Family members, invited guests and members of the public.
The spectacle involves the Queen being taken down The Mall from Buckingham Palace, escorted by a royal procession of mounted troops or horse guards. Upon receiving a royal salute, she then typically inspects the division, which consists of The King's Troop and Royal Horse Artillery, as well as the horse guards.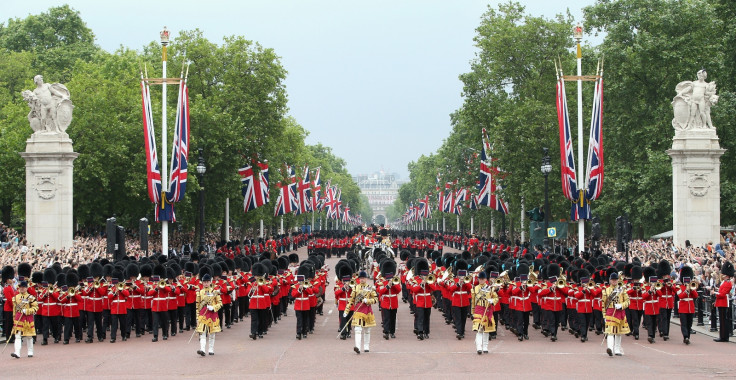 There is always a massed band that provides the music for the procession whilst taking part in it, after which the escorted Regimental Colour is carried down the ranks.
The colours embody that regiment's spirit and service, as well as its fallen soldiers. A loss of a colour was considered the greatest shame on a battlefield, whilst the capture of an enemy colour was seen as the highest victory. Consequently, regimental colours are venerated by officers and soldiers of all ranks, second only to the sovereign.
When this is finished, the Queen then returns back to Buckingham Palace in her carriage before taking the final salute from a dais. The troops then return to their barracks, whilst the entire Royal Family regroup on the palace balcony to watch a fly-past from the Royal Air Force.
Queen Elizabeth has attended every year's Trooping The Colour presentation, during her time on the throne, except in 1955 due to a national rail strike which led to the whole thing being cancelled.
During this year's presentation, 31 RAF aircraft are scheduled to put on a choreographed show whilst the Red Arrows will also be carrying out a similar display too on the Saturday. They are expected to fly in their widely-recognised Big Wing formation in their distinctive Hawk jets.
Speculatively, this celebratory military display dates all the way back to before the eighteenth century, when the flags (known in this instance as colours) of the unit were carried so that they could be seen and recognised by the soldiers.