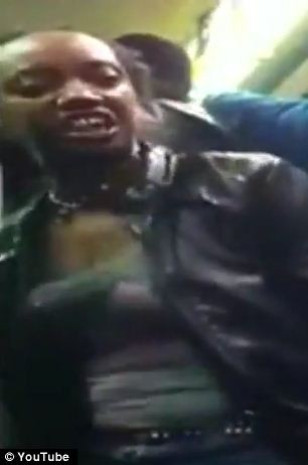 A racist rant by a woman who verbally abused passengers on a London bus is being investigated by the police after a video was posted on YouTube.
The video shows a black woman shouting and swearing on a crowded bus and saying that she "hates white people".
"They all want to be f**king black, they all put fat in their lips and their bottoms and sit down on the sun bed to be black," she shouts, spitting on the floor.
The rant goes on for several minutes while other passengers try to ignore her.
"The only reason I was born in this country is because you f**king people brought my people here. I can't stand you white people. The whole lot of you are programmed, f**king puppets.
She goes on: "I don't care what none of you lot got to say because at the end of the day if you lot would have had a choice you will f**king go with your people and I'll go with mine."
The woman, whose name is not known, may face prosecution for racial abuse.
In May, Jacqueline Woodhouse, 42, was jailed for 21 weeks after pleading guilty to racially aggravated harassment, alarm or distress by using threatening, abusive or insulting words or behaviour.
The sentence came after a video of her abusing Asian passengers on the tube was uploaded on the internet.
A 34-year-old woman from New Addington, Surrey, was arrested in 2011 for a racially aggravated public order offence related to a video on YouTube.