Rafael Ramos: Thousands attend funeral of NYPD officer shot dead by lone gunman in New York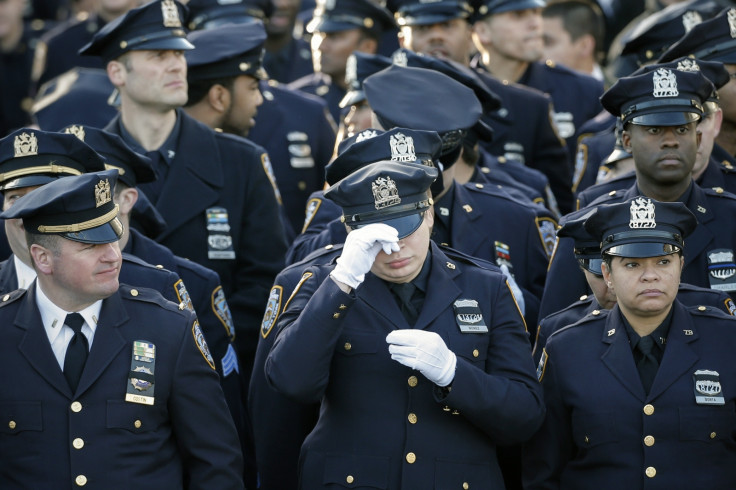 Thousands of mourners have attended the funeral of one of the two police officers shot dead by a lone gunman in New York.
Rafael Ramos and Wenjian Liu were on duty in their police car when they were shot multiple times by Ismaaiyl Brinsley, in the borough of Brooklyn. The killer then turned the weapon on himself.
Brinsley, who had a history of violence, had reportedly shot and seriously injured his girlfriend in Ohio just hours before travelling to kill the two policemen.
Ramos's funeral was attended by hundreds of police officers as well as American Vice-President Joe Biden.
Biden said that the killings had "touched the soul of an entire nation" and described the New York Police Department as "the finest police force in the world", prompting applause from the crowd.
The department's chief spokesman, Stephen Davis, released a statement saying: "This [the funeral] is probably going to be the largest one, maybe in the history of the police department."
Davis described the killings as "an out and out calculated assassination, even notwithstanding the current controversy, the protests across the country".
Ramos's coffin lay overnight at the Christ Tabernacle Church in the New York City suburbs of Queens.
The deceased police officer's son attended the funeral wearing his father's NYPD jacket and was consoled by an officer.
According to AFP news, the father of two teenage sons was training to be a police chaplain.
Pastor Ralph Castillo described Ramos as a "a man of great faith. We're going to miss him a great deal."
The funeral plans for police officer Wenjian Liu have yet to be announced.
The hashtag #Officer Ramos, was trending in a high position in Twitter as hundreds of users posted comments on the funeral.
© Copyright IBTimes 2023. All rights reserved.