Violence and conflict in the Middle East and North Africa threaten the lives of over 24 million children, most of them in Yemen, Iraq and Syria, the United Nation's children agency said in a report. The figures reflect the enormity of the disaster. According to Unicef, Yemen tops the list, with 9.6 million children in need, followed by Syria, Iraq, Sudan, the Gaza Strip and Libya.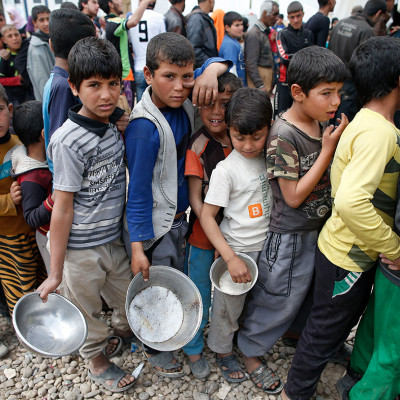 Yemen's two-year conflict has pushed the impoverished country to the brink of famine, with widespread severe acute malnutrition among children. In Syria, 5.8 million children are at risk, including more than two million who live under siege and in hard-to-reach areas with little to no humanitarian aid. Many do not have access to life-saving vaccinations and those who fall ill or are injured struggle to get treatment. In Iraq, water supplies in camps for the displaced around Mosul are stretched to the limit, with new families arriving daily, many with malnourished children.
AFP photographer Karim Sahib spent some time with families celebrating Ramadan at northern Iraq's al-Khazir camp, home to thousands of people who have fled the fighting in and around Mosul. His powerful images show families breaking their fast between the endless rows of tent that have become their homes, and children queueing for water rations that they'll only be able to drink after sunset.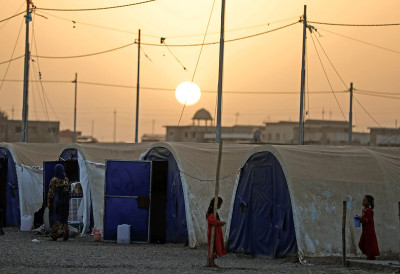 With millions of Muslims around the world fasting as part of the holy month of Ramadan, food and charity are uppermost on the minds of many. The fast serves as a reminder of the hardships that millions of people living in poverty endure daily. Zakat, the third pillar of Islam, is the practice of charitable giving by Muslims and is obligatory for all who are able to do so. The Muslim Charities Forum estimates that Muslims across Britain donate around £100 million during Ramadan.
Several charities have launched special Ramadan programmes, which allow Muslims to use their zakat to help relieve suffering where it is most needed.
In the last year alone, Islamic Relief say they provided emergency relief, such as food, clothing, hygiene kits and shelter, to over 340,000 people in countries including Syria, Iraq, Palestine, Bangladesh, Afghanistan, Pakistan, Kenya, Somalia and India, and were able to provide food during Ramadan to 115,750 people.
Muslim Hands, an international aid agency and NGO, has field offices in over 30 countries, working closely with communities to make a lasting difference. It also has a range of options for providing Iftar meals to the needy.
Muslim Aid responds to emergencies such as Syria, Iraq and Yemen, and also works on strategic programmes to eliminate poverty by ensuring people have access to basic necessities and gain the skills necessary to generate an income and live independently.
UNHCR – the United Nation refugee charity –provides shelter and support to people displaced by conflict around the world, including South Sudan and Iraq. With more people being forcibly uprooted than at any time in recent history, UNHCR needs help to provide tents, mattresses and other basic essentials.
This Ramadan, Save the Children has launched the 'It's Not the Same For Them' campaign to remind people of the harsh realities that confront Syrian children.
Many other charitable organisations are available. The Charity Commission has launched its annual safer giving campaign to help British Muslims continue giving generously to registered charities this Ramadan. The commission says there are simple steps people can take to check before they give, to ensure their zakat goes where it is intended this Ramadan.
As one of these charities, Islamic Relief, says on its website, zakat has the power to transform people's lives, turning them from zakat recipients into zakat givers.